A 'Beauty and the Beast' Prequel About LeFou And Gaston Is In the Works
by Kristine Cannon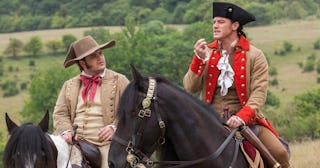 Disney
A Beauty and the Beast prequel series is in the works at Disney+ — And, Yes, It Will Star Josh Gad and Luke Evans
When the live-action Beauty and the Beast hit theaters in 2017, Disney fans couldn't help but rave over Emma Watson's superb portrayal of Belle and, more loudly, applaud Disney's first-ever gay character, LeFou, played by Josh Gad. Well, as it turns out, we have yet to see the last of Gad as LeFou: A Beauty and the Beast prequel series is in the works at Disney+, according to The Hollywood Reporter (THR).
Gad and Luke Evans, who portrayed Gaston in the live-action remake, will reprise their roles for a limited, six-episode series, THR reports. Disney+ has teamed up with Once Upon a Time creators Eddy Kitsis and Adam Horowitz — and Gad as co-writer — to tell Gaston and LeFou's origin story.
Though the untitled musical is still in the early stages of development, it's reported that the series will "expand the Beauty and the Beast universe," and that no other stars from the 2017 film such as Watson and Dan Stevens (who played the role of Beast) are currently part of the project. THR also reports that composer Alan Menken is in talks to create new music for the series. Reps for Disney+ and ABC Studios have yet to comment on the prequel.
As previously mentioned, Beauty and the Beast was a hit among fans. Though it received mostly positive reviews from critics (it currently has a 71 percent rating with nearly 370 reviews), the film was a box office success grossing more than $1.2 billion worldwide. The character of LeFou, however, received mixed reactions. In fact, a movie theater in Henagar, Alabama refused to show the film for religious reasons. "When companies continually force their views on us, we need to take a stand," Henagar Drive-In theater's now-deleted Facebook post read. "If we can not take our 11-year-old granddaughter and 8-year-old grandson to see a movie, we have no business watching it. If I can't sit through a movie with God or Jesus sitting by me then we have no business showing it. I know there will be some that do not agree with this decision. That's fine. We are first and foremost Christians. We will not compromise on what the Bible teaches. We will continue to show family oriented films so you can feel free to come watch wholesome movies without worrying about sex, nudity, homosexuality and foul language."
A couple of weeks before the film's release, director Bill Condon confirmed LeFou's sexuality, telling Attitude magazine, "LeFou is somebody who on one day wants to be Gaston and on another day wants to kiss Gaston. He's confused about what he wants. It's somebody who's just realizing that he has these feelings. And Josh makes something really subtle and delicious out of it. And that's what has its payoff at the end, which I don't want to give away. But it is a nice, exclusively gay moment in a Disney movie."
Following LeFou, Disney has since announced its first openly gay character, Officer Specter, a cyclops voiced by Lena Waithe in the upcoming animated film Onward. Shortly after the Disney-Pixar film hit theaters on Feb. 29, though, several Middle East countries banned it.
"This is disturbing and sad," Gad tweeted. "I hope that audiences send a message by seeing this very special film and force those regions where it's banned to reconsider."
We need to see more characters like Officer Specter and LeFou because, as Attitude editor-in-chief Matt Cain put it back in 2017, "doing so hopefully help[s] to change attitudes and bring about real social progress."
"By representing same-sex attraction in this short but explicitly gay scene, the studio is sending out a message that this is normal and natural — and this is a message that will be heard in every country of the world, even countries where it's still socially unacceptable or even illegal to be gay," Cain said.
This article was originally published on