Best Cities For Single Ladies Looking To Date And Work — Based On Actual Data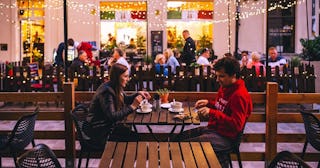 Wictor Karkocha/Unsplash
Dating is rough. "Plenty of fish in the sea" just isn't true — they're all eels, sharks, or blowfish and not anything truly dateable. Even when you do finally stumble upon a "good one," they're usually taken or don't swing your way (whatever your way may be). Then there's the location factor. Some cities just don't have many singles. Even in big cities, the numbers of singles start to diminish as you age.
However, if you're in a smaller city or somewhere in the south or midwest, where people get married even younger, those numbers continue to shrink. We're in no way suggesting you move if your only motive is a date: You'll just be in a new city with no significant other or friends and family. But, if you're already thinking a move is in order so that you can find better work or live in a more like-minded place, why not consider the dating pool, too?
Luckily for you, many people have done studies on the best places for singles. From the best towns for younger singles to the highest ranked dating spot based on votes from actual single women, there are so many factors to consider. Here's what the research shows.
From WalletHub
In 2019, Wallet Hub did a few calculations to figure out the best city for women to date in. They compared not just the number of singles within certain cities. They also looked into how livable a city was and how expensive "going out" was in each place. They scored cities on the following three factors: Economics, fun/recreation, and dating opportunities. From those scores, they figured out an average. According to them, the best city for dating was Atlanta, GA which had an average or above average score in each of the three fields.
It's important to consider, though, that not all cities were as evenly balanced. San Francisco came in third, but has an incredibly low economics score because cost of living is so expensive. Luckily, their high scores for fun/recreation and dating opportunities help balance them out. In the end, Wallet Hub's top 5 cities were:
1. Atlanta, GA
2. Denver, CO 3. San Francisco, CA 4. San Diego, CA 5. Portland, OR
Best Places
Of course, WalletHub's guide may not be definitive. If you're asking yourself, "Where should I move if I'm single?" Best Places has it's own suggestions. They teamed up with AXE Bodyspray to come up with their own list, where they compared things like population density, singles within the 18 to 24 age range and activities/dating venues per capita. According to their findings, if you're between the ages of 18 to 24 (or dating people in that age range), these are the top five places to consider moving:
1. Austin, TX
2. Colorado Springs, CO 3. San Diego, CA 4. Raleigh/Durham, NC 5. Seattle, WA
Apartment List
Numbers are great. But, maybe the best way to go about finding your new dating scene is to consider what the locals are saying. Apartment List asked about 11,000 people how satisfied they were with the dating scene in their cities. According to actual residents surveyed, these are the five cities with the happiest singles:
1. Provo, Utah
2. Richmond, VA 3. Raleigh, NC 4. Bridgeport, CT 5. Knoxville, TN
Apartment List – Women Only
Apartment List actually went a step further in their research, though. While the cities are a list of cities both men and women are satisfied in, a female-only survey skews things another directions. When they compared the answers of only single women, the list looked like this:
1. Austin, TX
2. Minneapolis, MN 3. Columbus, OH 4. Charlotte, NC 5. Denver, CO
As an extra tidbit, the place where women were least happy with the dating scene is Kansas City, MO.
Nerdwallet
Nerdwallet jumped into the game by conducting their own analysis of the best places single women can spread their dating wings, albeit, they only considered heterosexual women, which leaves much to be desired. They took into account the availability of single men, dating affordability, and the dating scene, concluding that the following ten cities are the top spots single women should consider.
1. San Francisco
2. Seattle, Washington
3. Minneapolis, Minnesota
4. San Diego, California
5. Austin, Texas
6. San Jose, California
7. Long Beach, California
8. Portland, Oregon
9. Denver, Colorado
10. Los Angeles, California
Best Cities for Young Professionals
All this is well and good, but what if you're not just looking at the dating pool but job opportunity, safety, and quality of life. Luckily, Shape magazine considered those factors as well when they listed the following cities as top contenders.
1. San Francisco
2. Portland, OR
3. San Diego, CA
4. Boston
5. Washington D.C.
6. Denver
7. Seattle
8. Los Angeles
9. New York
10. Philadelphia
Financial advisory firm SmartAsset threw its hat in the game with their third annual study on the best cities for young professionals, to some surprising result. Per their results, they considered nine different metrics they based their results on including, but not limited to, "economic and livability factors relevant to young professionals. More specifically, they consider cost of living, entertainment, job diversity and income, along with the unemployment rate for those between 25 and 34."
These were their results:
1. Sioux Falls, SD
2. Austin, TX
3. Denver, CO tied with Nashville, TN
5. San Francisco, CA
6. Raleigh, NC
7. Minneapolis, MN
8. Madison, WI
9. Seattle, WA
10. Charlotte, NC
Now, let's hypothetically say there's a worldwide pandemic and everyone has the option of working remotely for the foreseeable future or indefinitely. And let's say that 2020 is a dumpster fire of a year and all this is now a reality many of us are living in. You may rethink your expensive rent in whatever overpriced city you may currently be living in. Luckily, Business Insider has the low down on the best cities for remote working. Per the Bureau of Labor Statistics, nearly 24 percent of Americans worked remotely in 2019, the last year the data was available for — that figure no doubt jumped exponentially in 2020 as COVID-19 made it necessary for so many to work from home.
According to Business Insider, the top 15 cities for remote work in the United States are:
1. Kansas City, Missouri
2. Salt Lake City, Utah
3. Austin, Texas
4. Raleigh, North Carolina
5. San Antonio, Texas
6. Denver, Colorado
7. Atlanta, Georgia
8. Richmond, Virginia
9. Dallas, Texas
10. Las Vegas, Nevada
11. Charlotte, North Carolina
12. Miami, Florida
13. Boston, Massachusetts
14. Virginia Beach, Virginia
15. St. Louis, Missouri
This article was originally published on