You Don't Need To Break The Bank To Get Amazing Gel Nail Polish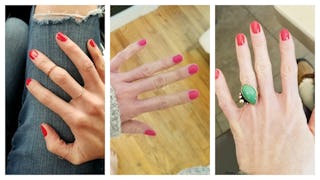 KATIE BINGHAM-SMITH
There's nothing that makes me feel like I have my shit together like painting my nails. I love to splurge and get a manicure a few times a year, but for the most part, I'd rather do it at home and spend the money on something else. And it's rare that I even do that, because how many times have you done your nails only to have them chip in exactly two damn days or smudge them because you're a busy mom who doesn't have three hours to wait for her nails to dry completely?
But if you haven't jumped on the gel nail polish bandwagon, you might want to give it a try. You can get a great looking manicure, without the UV light in only one or two steps (depending on the polish you choose). Gel nails are so popular because they last longer and have a smooth, shiny finish.
I wanted to see what all the fuss was about so I tried three gel polishes that promised to dry fast, last long and give you the "I just had a manicure" look. I was pleasantly surprised and wanted to share the results.
Also, regular nail polish is dead to me.
First, I tried Wet n Wild's 1 Step Wonderful (color: crime of passion), it was under $5, and I figured I could handle one step. In fact, I painted my nails in the car while waiting for a friend who was meeting me for lunch. It was a risky move, but I was feeling dangerous. Low and behold, by the time she got there and we hugged, my nails were dry (about 5 minutes). I know this because my nails got caught in her hair and did not smudge a bit.
I was highly skeptical that cheap polish could hold up longer than a few hours.
The photo on your left is day one. I applied two coats and that was it. The middle photo is after five days–and it must be known I spent two days wrapping Christmas gifts, and I have Invisalign, so the only way to pop my clear retainers out is to use my nails. Even then, no chipping.
The photo on the right is after seven days. The polish was starting to wear down on the tips and chip a bit so it was time for me to move on. But, 7 days!
I was so pleased with this polish. For $4.99, it's a winner and I want every color.
This was a two-step process. You apply the color (I used Pink-terest), then a gel top coat. I put on two coats of color, then the top coat. While Sally Hansen claims this will last a full 14 days, I disagree. The picture on the left is day one, the picture in the middle is day 5, and the one on the right is day 7. There was minimal chipping at this point, but we all know what happens when the chipping sets in–the rest of the polish goes fast.
I must add, there was no gift wrapping the week I wore this, either. I could have swept on another coat, and it would have lasted longer but I was ready to try a new color. Again, 7 days is pretty good and I was happy with the product — the shine looked like I had indulged in a true gel manicure and I got a few compliments on how good my nails looked, but for almost $14 (for the color and top coat), I would likely save myself $9 and go for the Wet n Wild.
This set from Essie (color: rock the runway) was the most expensive at $18.49 and claims to give you up to 14 days of "instant gel-like shine." I loved the brush. It made the polish goes on so nice–one sweep almost covers the whole nail. This was, by far, the shiniest and thickest polish of the three. It also claims to last for up to two weeks, and I thought it would. The photo on the left is day 1, the middle photo is day five, and the photo on the right is day 6. At the beginning of day 5, my nails still looked good and I had high hopes, but the chipping started fast on day 6. For almost $20, I was hoping for more.
Essie also has a clear gel setter top coat you can purchase and pair with any color to give it a gel-like finish, if you don't want to buy the set.
So, once again I have to say it: sometimes (not always), you don't have to spend all your cash to get good results. The Wet n Wild lasted just as long as the Sally Hansen, and longer than the Essie which was almost four times the cost. Honestly, Wet n Wild is the only brand I'll be buying from now on. It's one step, under $5, comes in a ton of colors, and you can get it at almost any drug store — it's a no-brainer. My nails will always look fab now.
This article was originally published on