33 Educational Subscription Magazines For Kids That Are Actually Fun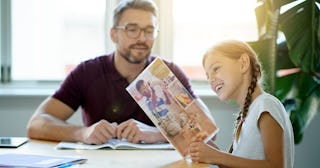 Mikolette/ Getty Images
There are a zillion subscription services out there for parents: shaving clubs, personal shoppers, monthly make-up and, yes, tons and tons of magazines. While there are a few kid-friendly subscription services, they're just not as plentiful. Most are also so stinkin' expensive. Know what's not expensive? Magazine subscriptions tailored to your child's interests. Does your kid love quiet games and short stories? Why not go for the doctors' office favorite, Highlights? If you spend most evenings toting your child from one team practice to another, maybe they need a Sports Illustrated Kids subscription. Whatever your little reader is into, there's a magazine out there just calling their name.
Ahead, we've curated the most fun and educational magazines for kids of all ages and interests.
Interested in more helpful reading material for your little one? We have pages on teaching your kids to read, ABC learning, kindergarten readiness tips, and more.
Activity-Based Magazines
It's never too early to start reading to your precious baby and with Babybug, you'll never get bored of reading the same books over and over.
Gorgeous art, sweet stories, and a few games or puzzles, all easy enough for your toddler or little kid.
You know Highlights. But, did you know the magazine will take your child's submissions? It's a great way to nurture their inner-Dickens.
Super easy to read and understand games and stories for your littles.
Each issue is jammed with games, activities, posters, and stickers featuring all the latest cool, girly characters (Strawberry Shortcake, My Little Pony, Polly Pocket, etc.)
Similar to Sparkle World, this mag focuses on everyone's favorite Disney princesses.
Ask changes themes monthly, but always comes at each issue from an investigative reporter-type attitude, no matter the subject.
Consider this your magazine of boredom busters! With everything from science experiments to games, your kid will open their mail to find a whole new list of things to do each month.
Chock full of animal-themed games and activities.
Similar to Ladybug but geared toward slightly older kids.
In the world of COVID, it's nice to have activities on hand for your little one. This magazine teaches kids about health and promotes creativity through activities and informational articles. With Jack and Jill, kids will also have the opportunity to stay up to date with real world topics. They can play brain teasers like puzzles and games. Your kid will never be bored with Jack Jill's pages of fun crafts and yummy recipes.
If your kid loves Nickelodeon or is obsessed with Spongebob, they will absolutely love this magazine. The Nickelodeon magazine is filled with colorful comics from all your kid's favorite shows, games, and puzzles. You can also find cool new books for your kiddos to read. There's even a mobile version of the magazine if your little one has a phone.
Science-Focused Magazines
Another solid choice for your future zoologist.
An upgrade from their "Jr." version, this animal magazine goes into even greater detail for your child.
Each issue digs deep on one subject and leaves your kid nearly an expert by the time they reach the back cover.
They claim to focus on both arts and science, but it's definitely science-heavy. They also boast some really fun jokes you can expect to hear on repeat throughout the month.
Specifically designed for kids who show interest in history and archaeology. You can't get a subscription any longer, but back issues are still available.
This amazing, science experiment-filled magazine is printed in the UK, which makes it a bit more expensive than your average magazine subscription, but the bold graphics and fun content make it totally worth it.
While it doesn't seem like KD is printing new issues, they do still sell their back stock at regular magazine prices. If you have a science-inspired kiddo who is hesitant to read, it might not hurt to invest in a few issues that might highlight your child's specific area of interest.
This animal-centric magazine is for children, but it isn't childish. Expect your kid to come away with actual knowledge.
Perfect for your STEM-centered kid.
Special Interest Magazines
Quite possibly one of the oldest children's magazines still in circulation, this jam features everything your boys' boy could possibly be interested in reading and learning about or some day trying.
If you have a little girl, you know about American Girl. They now have an entire online companion available to magazine subscribers.
If you're attempting to raise a Christian teen girl, you'll love Brio magazine. It focuses on almost all the usual teenage issues but does so with a religious spin.
The ultimate score for your LEGOphiles at home.
Growing up an "Army Brat" or any other iteration of a military kid can be pretty isolating, even when you are on a base with plenty of other kids in the same situation. MKL helps kids work through their unique situation.
Got a Master Chef Junior winner on your hands? Or maybe just hoping to inspire your youngin' to take a more active role at dinner time? This will give them some much-needed inspo.
Sports Magazines
While SI, Jr. covers a wide range of sports, Youth Runner is 100% steered at the mini-sprinters and marathoners in your life.
Horse girls, amirite? While the magazine tends to focus more on the more Olympic equestrian sports, your barrel racers and rodeo girls will enjoy the read, too.
Perfect for any kid (boy or girl) who enjoys watching or playing sports. It's filled with good quality articles and interviews, as well as all the interactive stuff a magazine needs to keep kids interested.
Read More: 14 Delightful Dinosaur Movies Your T-Rex Obsessed Kids Will Love
Magazines for Little Leaders
Is Greta Thunberg your kid's hero? Do they watch C-Span in their spare time? Xyza serves up what is essentially grown-up news for the socially conscious kid by breaking it down on a kid-appropriate level.
First things first, this magazine is stunning. The design itself is worthy of praise — and the content? Wow. From compelling storytelling to engaging games and activities, everyone in the house will want to hold onto this one.
This article was originally published on