Bette Midler Shares Sneak Peek At 'Hocus Pocus' Reunion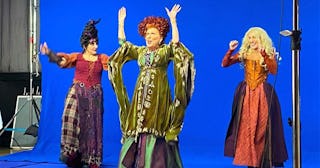 Bette Midler/Instagram
Bette Midler, Sarah Jessica Parker, and Kathy Najimy tease their upcoming Hocus Pocus reunion with a magical BTS snapshot
By now, we've surely established that Hocus Pocus hysteria is a thing we all have — especially around Halloween. Wearing Hocus Pocus face masks makes the pandemic more bearable. We'll pair it with the new Hocus Pocus makeup collection to make our unmasked eyes pop. And yes, OF COURSE we want a Hocus Pocus Lego set for Christmas, which we'll play with while drinking hot cocoa out of our Hocus Pocus cauldron mug with a broomstick spoon. Please, and thank you! But nothing pleases our Hocus Pocus-loving hearts quite as much as the Hocus Pocus reunion photo Bette Midler just shared on Instagram.
"Your 3 fav witches — @sarahjessicaparker @kathynajimy & ME — are returning for 1 night only on 10/30 at 8p ET!," Midler captioned a behind-the-scenes photo of the three actresses in full Sanderson Sisters regalia. "'In Search of the Sanderson Sisters' is the best thing to happen to #Halloween since Hocus Pocus + Reeses Pieces. Get your tix now (link in bio) and support @NYRP #nyrphulaween."
In the caption, Midler refers to a virtual charity benefit hosted by none other than Winifred, Sarah, and Mary, er, we mean Midler, Parker, and Najimy. The women will reprise their iconic roles to raise funds and support for Midler's New York Restoration Project (aka NYRP), which fosters healthier natural environments around New York City.
Although Midler usually hosts an exclusive costume gala attended by Hollywood A-listers, she's opening it up to the public this year due to the pandemic. Since the event will take place online, the Sanderson Sisters won't have to cast any spells to keep COVID-19 away (if only that was an option, sigh).
Consider this the ultimate calming circle that we all need. Not only is it a wickedly affordable $10 per ticket, but it will also feature some other very famous faces — think Meryl Streep, Jennifer Hudson, Jamie Lee Curtis, John Stamos, George Lopez, Billy Crystal, Glenn Close, Kenan Thompson, Martin Short, Todrick Hall, Adam Lambert, Michael Kors, and more. That's a lineup that'll help get us through until the Hocus Pocus sequel finally comes to Disney+.
Now that you obviously have your plans for Oct. 30 set in stone — or should we say gravestone? — you're going to need snacks. Well, don't worry; Midler's got your back on that, too. No, she's not recommending dead man's toes or Sarah's lucky rat tail for your noshing pleasure. Rather, NYRP enlisted Lady & Larder to create three "creepy cheese and charcuterie boards" you can order for your Hocus Pocus reunion evening.
Fittingly, each board is named for a Sanderson sister: The Mary, The Sarah, and The Winifred. But you'll have to hurry! If you want to get in on this deliciousness, you'll need to place your order by this Wednesday lest the morning sun causes you to explode. J/k, j/k… you're not a witchy Sanderson woman, so you're safe. You just won't have themed charcuterie boards to enjoy which, TBH, also sounds like a curse.