Billie Eilish Has Words For People Concerned About Her Green Hair
by Julie Scagell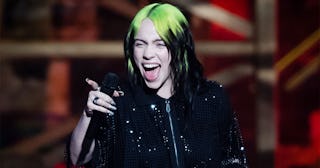 Samir Hussein/WireImage/Getty
'Stop making fun of me' the teen singer said to fans recently
Apparently, some people on the internet feel like the world will not continue spinning if we don't know how they feel about Billie Eilish's hair. The singer/songwriter, who likely gets inundated with unsolicited opinions about her looks, life, music and everything else, decided she'd had enough and recently clapped back at trolls who have nothing better to do than comment on a teenager's hair.
The 19-year-old hilariously responded to "fans" in a recent Instagram story after reading numerous comments about the fact she's had her green locks for longer than they deem appropriate. "Fuck you guys. Stop making fun of me, oh my god!" Eilish said, laughing in an Instagram story posted on Monday night. "I'm fucking making you an album! I will not put it out if you keep making fun of my hair. Shut up!"
It's been a full 21 months since Eilish's award-winning debut album, "When We All Fall Asleep, Where Do We Go?" dropped. She's also put out two standalone singles and her James Bond theme, "No Time To Die," in 2020 so fans should be thrilled to hear she's got a new album coming soon — regardless of her hair color.
The Grammy award winner first debuted the green hue on Instagram in July 2019 after previously having dyed her hair blue and then black. According to Buzzfeed, she also responded to specific comments by saying in part, "It's called not being depressed anymore pls just be happy for me… This is the longest i've had the same hair color since I was 13 & and that's on mental stability and growth leave me alone. Leave me alone with my hair that I've had for way too long."
Eilish went on to reveal that she'll be changing her hair after the release of her Apple TV documentary, The World's A Little Blurry, which is scheduled to drop in February. The documentary follows Eilish and her rise to stardom "as she navigates life on the road, on stage, and at home with her family."
"I'm changing it after the doc comes out," she said. "It'll be the end of an era, I'ma give you a new era…I have announcements to make, I got some shit to put out."
Writer/producer brother Finneas O'Connell gave a sneak peak into the album earlier this year, telling The Herald Sun, "Billie's album, and my album, they won't be a bummer COVID record," he said. "I have a desperate desire not to release them during COVID-19. It's the vaccine record! I want it to be the album everyone's out dancing in the streets to."
Here's hoping she releases more fabulous music sooner rather than later — green hair and all.