Billie Lourd Shares Stunning Birthday Tribute To Mom Carrie Fisher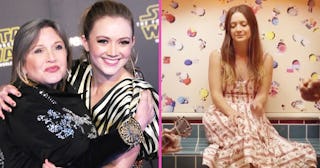 Barry King/WireImage/Getty and Billie Lourd/Instagram
Billie Lourd sings a stunning rendition of "American Girl" in honor of her late mother, Carrie Fisher, on what would have been her 63rd birthday
Billie Lourd, the late and great Carrie Fisher's only child, is honoring her mother on what would have been her 63rd birthday. The 27-year-old American Horror Story star posted a beautifully moving video of herself singing a cover of her mom's favorite song, "American Girl" while sitting in the bathtub of Fisher's longtime home — and it will seriously give you chills.
"Happy birthday Momby," Billie wrote alongside the video. "Today would have been my Momby's 63rd birthday. Not that I'm some kind of grief expert by any means, but on milestones (or whatever you want to call them) like this, I like to celebrate her by doing things that she loved to do. So here's a little video of me singing one of her favorite songs (American girl by Tom Petty) in one of her favorite places (her bathtub of course)."
She concluded the post by mentioning another way she would be honoring the Star Wars star on her special day. "I'll probably have a pint of vanilla Haggen Dazs and a Coca Cola for dinner," she wrote.
While the caption itself is truly touching as well as heartbreaking, Billie's soulful version of the iconic Tom Petty and the Heartbreakers song literally brought the internet to tears. So many other celebrities rallied around her, praising her singing abilities and the moving tribute to her mother.
Other non-famous followers agreed, with some even remarking that they wished they could download her remake of the song.
Carrie Fisher died at the age of 60 on December 27, 2016.
"It is with a very deep sadness that Billie Lourd confirms that her beloved mother Carrie Fisher passed away at 8:55 this morning," a statement released by the family read. "She was loved by the world and she will be missed profoundly. Our entire family thanks you for your thoughts and prayers."
The actress, famous for playing Princess Leia in the Star Wars franchise, was flying from London to Los Angeles on December 23 when she suffered a heart attack. After landing in Los Angeles, she was rushed to the hospital and was in intensive care until her passing days later.
The day after Fisher's death, her mother, Debbie Reynolds, had a stroke and died. The two were honored at a joint funeral, attended by their closest friends and family.
On the one-year anniversary of her mother's death, Lourd journeyed to northern Norway to experience the Northern Lights, something she says her mom always wanted to see.
On the second anniversary, she played another one of her mother's favorite songs, "These Days" by Jackson Brown, on the piano her grandfather had given her mother.
RELATED: 14 Funeral Songs To Help Honor A Late Loved One
Lourd is keeping her mother's spirit beautifully alive in sharing these sweet tributes with the world. Fisher will always be missed but hearing from her daughter helps her absence sting a little bit less.
This article was originally published on