Blake Lively Wants Her Daughters To Know That She's A Working Mom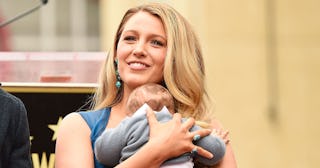 Matt Winkelmeyer/Getty
Blake Lively shared why it's important for her to show her daughters that she's a working mom
Parenthood looks different for everyone, only universal in that it's a non-stop, never-ending full-time job paid only in love and exhaustion. Blake Lively just opened up about why it's "very important" for her three daughters to see her as a working mom, in the hopes that someday down the road, they'll understand that motherhood is not the only hat they can wear.
Lively shares daughters James, 6, Inez, 5, and Betty, 2, with her husband, Ryan Reynolds, and she told People that while she's all in on being a fully present parent to them, she also wants to show them that having her own identity outside of being their mom means a lot to her.
"I want to be as present of a mother as humanly possible and I want them to feel my presence, but I also think the best way to be the best mother is to show them that you can have a life and have a passion and have an identity outside of just being a mother," she told the magazine. "I mean, being a mother is completely all-encompassing, and that doesn't mean there are a lot of mothers who don't have the opportunity to work as well, but just having your [own] identity is, I think, very important, and teaching them that they can maintain themselves and that everything is possible [is crucial]. So it is very important for them to see me working."
Lively acknowledged that she's "lucky" to be in a position where she can not only choose to work, but also bring her daughters along with her. "I bring them along, though. I mean, it's amazing they're not hidden under my skirt right now," she joked. "I bring them everywhere. It's so inappropriate, but I'm very lucky to be at a job that allows me to do that."
For what it's worth, though, the famous couple also keeps it real about how bonkers it can be raising three kids six and under. Reynolds recently admitted to TODAY that he was initially afraid of having sons, having grown up with three older brothers who would gang up on him at home. But three daughters?
"It's absolute mayhem," he said, "You're just, every day, clinging by the skin of your teeth." He added, "I was always afraid I would have boys," he shared. "Now that I have girls, I realized I should not have been afraid. I should have wanted boys as well. They're just as rough." It seems like no matter how you slice it, parenting is no walk in the park — as parents everywhere let out a collective sigh and say, "LOL. We're well-aware."