Blue Ivy Is The Real Star Of Beyoncé & Jay-Z's New Tiffany Ad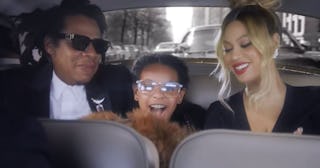 Tiffany & Co./Youtube
Beyoncé and Jay-Z may stun in their new ad campaign for Tiffany, but the whole internet knows who's actually the star of their short film: Blue Ivy
Happy Wednesday, internet! Today is a blessed day because Beyoncé and Jay-Z have released their new ad campaign for Tiffany, which is, in a word, incredible. At the center of the campaign is a short film that shows Bey and Jay going on a date night, complete with a limo, pizza, champagne, a lot of diamonds (naturally), and a visit from the true star of the video: The couple's show-stealing daughter, Blue Ivy.
"Date Night" opens on Beyoncé in the back of a limo, serving us serious Audrey Hepburn energy, as she plucks the petals from a flower playing "He Loves Me, He Loves Me Not." Pretty soon, the limo pulls over to pick up Jay-Z, and the two embark on a date night that feels almost relatable. They stop for pizza, and then laugh while they feed it to each other in the backseat. They then stop for champagne, sipping in between jokes and sweet moments together. If it weren't for the limo, curbside bottle service, and the fact that Bey is literally dripping with Tiffany diamonds, this would almost look like our date nights.
The most recognizable part for any parent, of course, is when Blue Ivy, now nine years old, crashes the date. Wearing glasses and with an adorable set of braces, the youngest Grammy winner in history is here to prove that she's the actual star of this ad campaign, whether her parents make appearances or not.
In fact, the whole internet is pretty much on the same page here. Good for Beyoncé and Jay-Z for landing appearances in that Tiffany ad campaign that starred Blue Ivy Carter.
This ad campaign really just seals it. We're all living in Blue Ivy's America. She's the youngest ever Grammy winner. She's the youngest ever VMA winner. She's out here booking Tiffany campaigns. This 9-year-old has earned more money than I'll ever see in my lifetime and I can't even be mad because girl has earned that bag. Get it, Blue. We're all your biggest fans.
The only question we have left is: What will Blue Ivy do next? For regular celebrities, it might be hard to top a campaign like this one, but for Blue Ivy Carter? This is clearly only the beginning.