Britney Says 'Lord Have Mercy' On Her Family If She Ever Does An Interview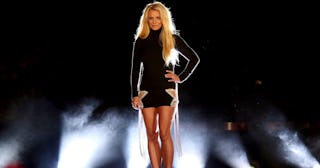 (Gabe Ginsberg/Film Magic via Getty Images)
In her latest Instagram post, Britney Spears opened up about being afraid of making mistakes post-conservatorship, and also warns that she will not hold back if she is offered an interview regarding it all
Between Jamie Spears's sister calling the conservatorship "barbaric," Jamie Spears's own take on his relationship with his daughter, and what seems like an unending stream of documentaries, it seems like everyone has had something to say about Britney's nearly decade-long conservatorship. The pop star opened up on Instagram about it all, and while she hasn't shared too much information, she insinuated that what she has to say isn't pretty.
"Lord have mercy on my family's souls if I ever do an interview !!! In the meantime … I'm staying clear of the business 💼 which is all I've ever known my whole life … " she said.
Spears detailed how scary and confusing the past 13 years have been for her under the conservatorship
"I'll just be honest and say I've waited so long to be free from the situation I'm in … and now that it's here I'm scared to do anything because I'm afraid I'll make a mistake !!! For so many years I was always told if I succeeded at things, it could end … and it never did !!!," Spears said in her caption of a photo of a fully decked out Christmas tree. ("I'm celebrating Christmas 🎄 way early this year … because why not ???!!! I believe any reason to find more joy in life is a good idea … and it's no secret that I've been through it in the past … so I might have to do things a little differently from now on !!!," she explained.)
She went on to say how difficult it is with the paparazzi, who she says "want me to do something crazy." And, given how the media helped shape the narrative that allowed this conservatorship to continue, it's completely understandable that she feels that way.
"So like I said I'm fearful of doing something wrong … so I won't be posting as much in a world where it's our liberty to be free, it's a shame !!! I started experiencing that when I got the keys 🔑 to my car 🚙 for the first time 4 months ago and it's been 13 years !!!! I haven't done anything to be treated the way I have for the past 13 years !!! I'm disgusted with the system and wish I lived in another country !!!"
It's heartbreaking to hear how she's suffered, but we are so glad she is finding the words to share her experience. And fans agree:
Other fans are reiterating that we shouldn't be sharing pap photos, as it only adds to the system that put Britney in this position in the first place:
If and when Britney is ready to share her story with the world, we will be here ready to listen. Until then, we hope she is simply having a wonderful Christmastime and enjoying her newfound freedom.