Brooke Shields Looks Like A Complete Goddess In This Swimsuit Campaign
by Thea Glassman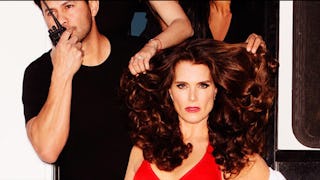 Image via Swimsuits For All/Instagram
Brooke Shields + bikini = OMG
Turn up the dial on the air conditioner because things are about to get a little hot in here. Pictures from Brooke Shields' new swimsuit campaign have been released and…um…oh my God. The woman literally looks like an ageless angel, and I would like to very politely demand every single one of her fitness tips RIGHT NOW.
Related: The Most Flattering Women's Swimsuits— 2020 Best Swimsuit Guide
Shields, 52, is currently modeling for Swimsuits For All's new "Power Suit" campaign — and her power suit is a truly bangin' bright red bikini. Behold below:
Like, seriously? How?
If you're currently feeling a very intense combination of awe and jealousy right now, you're definitely not alone. Comments poured in on Instagram, and they ranged from "DAMN" to "I really, really wish I had her body." But Brooke Shields wants us all to rock that red bikini, and feel damn confident doing it. She told PEOPLE that she felt insecure about her looks for a long time, and it took years to "separate the opinions of others from [her] own." These days, though, she's finally feeling really, really good about herself.
Related: The Coolest Rash Guards For Parents Who Don't Want To Bare It All (Or Get Sunburn)
"At 52 years old, I finally feel comfortable and proud of the all the hard work I've put into my body," she explained. "I can say that I feel confident being in my own skin, showing my body and not hiding it."
You DO you, Brooke Shields. The world is beyond excited to see you looking fierce and confident and smoking hot.
Speaking of hot, can we also pause for a moment and appreciate Ashley Graham? The supermodel has collaborated a lot with Swimsuits For All and created her own line of inclusive swimwear for the brand. She is serving up all the fierceness with her photoshoot too, and rocking the hell out of an all-white one piece (truly never an easy feat).
Related: The 9 Best Maternity Swimsuits To Flaunt Your Baby Bump
But what's the actual secret behind these hot bods? Well, Shields told Health that she does pilates, SoulCycle (kill me now), and works out with a personal trainer. She also eats Dove miniatures when she wants to indulge and always keeps hydrated. "Water, water, water, sleep, greens. And, love," Shields told W Magazine. Oh, and she manages to somehow look extremely graceful on a bicycle, which is something I have yet to figure out.
So, I guess we should all eat some Dove chocolate, drink some water, head to the gym, and just kinda hope for the best. Brooke Shields knows that we can do it.
This article was originally published on