Build-A-Bear Finally Reveals 'Baby Yoda' Plush Toy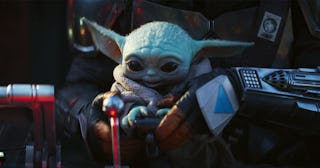 Disney +
It isn't in stores yet, but once The Child is for sale, this is what he will look like
If you've been on the internet for even five minutes since Disney+ debuted its hit series The Mandalorian, then you've definitely seen (and fallen in love with) Baby Yoda, aka, The Child. The bitty guy was a runaway smash hit, which might not have been Disney's intention judging by the lack of Baby Yoda merch available since the show first aired. But now, The Child is slowly entering our homes with the latest offering coming from Build-A-Bear — and he's so stinking cute you're going to want to wait in line for him all night.
RELATED: 10 Best Disney Toys To Keep Kids Living Their Most Magical Lives Right At Home
You guys, I wasn't kidding — he's literally perfect.
"The cutest creature in the galaxy is arriving at Build-A-Bear Workshop this spring! Sign up for email updates to be among the first to know when #TheChild has arrived," the retailer says.
Baby Yoda fans everywhere right now.
Though he's not yet available to build, he is on Build-A-Bear's site with the promise that he's "coming soon."
"Known as The Child, this lovable alien is sure to bring bountiful hugs for fans who can't get enough of this mysterious species," the page reads. "This officially-licensed plush is inspired by The Mandalorian."
Can we just rename it The Baby Yoda Show? No? Well fine, but in my mind, that's what it's called. And judging by the demand for Baby Yoda merchandise, I am not alone. As enterprising crafters hit Etsy with their Baby Yoda wares, Disney is shutting them down. But what else are excited fans who only want to snuggle the green baby supposed to do? Thankfully, Disney obviously hears our pleas loud and clear as the Baby Yoda merch train finally pulls into the station.
No word quite yet on what date you'll need to request off from work and secure childcare so you can wait in line at Build-A-Bear starting at 2am to get your hands on your very own The Child plushie. Once that date is released, Build-A-Bear better brace themselves for an onslaught of people who can't wait to have a Baby Yoda of their very own. If you just can't have any chill until then, you can try your hand at crocheting him or even dress your baby as The Baby.
This article was originally published on