30+ Bullet Journal Ideas That'll Help Keep You Organized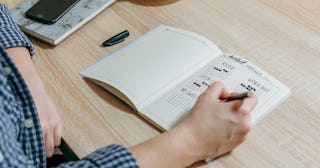 Iryna Imago/Getty Images
Journaling can be an excellent hobby for those who want to get creative, and bullet journaling can be even better! Bullet journal ideas can inspire you to become more organized and reach your goals quicker. Plus, there's a good chance you already have all of the supplies you need to get started at home.
One of the most significant bullet journal ideas to help you get started is to create a calendar. A bullet journal calendar doesn't necessarily have to look like your standard wall calendar. In fact, you can just make a few bullets of goals you have for each month. Months can take up a page each in your journal, or you can even use one page for each quarter if you're looking to save paper.
RELATED: The Best Pregnancy Journals For Recording Your Bump-To-Baby Journey (And Even Beyond!)
Looking for more bullet journal ideas? Here are more than 30 great ways to utilize a bullet journal that might make your life a little easier.
What is a bullet journal?
So, you know what a quote-unquote regular journal is. But what is a bullet journal or "BuJo," exactly? Well, it's like a traditional journal with a twist — using a blank page or dot-grid template, you create sections where you log your to-do lists, notes, thoughts, goals, and more. Graphic elements such as bullet points, dashes, and drawings make it easy to recognize specific sections at a glance.
How do I start bullet journaling?
https://www.instagram.com/p/CUfsZmNKwNT/
As with many things in life, the best way to start is just by jumping in! You won't know how you like it or what works best for you until you give it a shot. Start by asking yourself in what area you need the most help organizing your thoughts. Then, consider picking up a few things that may set you up for success:
A good notebook with a flat-lay spine and high-quality paper
An arsenal of pens (we like versatile dual tips in lots o' colors)
Stickers, washi tape, or other decorative elements
What should I put in my bullet journal?
Jot down your meals. Not only will this be an easy way to track how varied (or not varied!) your menu is, but it'll also serve as inspiration for future meal planning.
Use it as a travel itinerary. Planning a big trip? Now's a good time for it. Here's the thing: Bullet journal ideas shouldn't only be about the present; they can also be about the future. Jot down ideas for your trip or notes about good restaurants to check out on a trip you've already got in the works.
Make a list of future big purchases. Own a home? Need to make some repairs? A bullet journal is a great place to sort them out.
Track your sleep. Learning more about your sleep can be a total life game-changer. Jot down any sleep disturbances you may have to see if they're becoming a pattern.
Write your dreams. Speaking of sleep, why not keep track of dreams you have? They'll likely only be in your head for a short time, so it's always a good idea to jot them down — especially if they're meaningful.
Use it to track your cycle. If you're trying to conceive, keeping track of your cycle with a bullet journal can help you along the way.
Log movies you've seen. Love seeing movies in theaters? Write down the ones you've watched. You can also use a bullet journal to keep track of ticket stubs. The journal can double as a scrapbook if you have a glue stick and strong enough paper.
Track pet vet visits. If you've got a sick or elderly pup, it may be a good idea to start keeping track of their health. It's a perfect use for a bullet journal, and your pet will appreciate the notes.
Plan a wedding. Curb any last-minute bridezilla breakdowns by heading into your big day totally organized. A bullet journal can help you feel more prepared for anything that comes your way.
Plan someone else's event. If you love event planning, you might want to keep a few journals around. Anytime you see something that would be lovely for a future event, add it to your bullet journal.
Make a list of date ideas. Need to rebuild some spark in your relationship? Jot down some dreamy date ideas and check them off as you make them a reality.
List out local restaurants you want to try. Restaurants always need extra support from their community. If you see somewhere you want to check out, jot it down so that you can remember.
Jot down funny quotes from your kids. Kids are hilarious! If they pull out a zinger, write it in your journal so that you'll remember it a year or two from now.
Keep track of birthdays. Rarely on Facebook these days? Then, keep track of birthdays in a journal. Your friends will appreciate a text or call the day of.
Write down gift ideas you'd like. Are you the kind of person who blanks on ideas when Christmas and Hanukkah come along? If you write down ideas year-round, you'll be more helpful with it comes time to show family your wish list.
Or gift ideas for others. It's always a kind thing to have plenty of ideas for your mom or dad when it comes to a big holiday. Just make sure to keep the journal hidden to avoid spoiling any surprises.
Make an ultimate music playlist. Whether it's for your wedding or a gift for a crush — there's nothing wrong with making a fun playlist.
Play games with friends. Are you familiar with "F*ck, Marry, Kill"? It's a fun game to play with your friends while at a bar or out to eat — especially when you use celebrities and not real people. Pass your journal around and see what everyone thinks.
Keep track of the weather. Make a quick note of the conditions outside each day. When you've tracked the weather for a full year, it'll be fun to compare. Bonus: This would make a fantastic project to tackle with your kiddos.
Jot down writing prompts. You might not use a bullet journal for full-blown journal entries, but they can be great for good ideas to help you write. Prompts can be as simple as, "what's your favorite restaurant meal?" but can be even more profound if you so do choose.
Count your steps. Most phones have a pedometer built-in. Use this as a way to keep track of how many steps you're taking every day.
Keep track of recipes. Eat something new recently? Jot it down in a journal so that you can try to remake it later.
Note baby names you like. Even if you're not expecting, it's always nice to be prepared. Plus, it means you'll always have interesting character names on hand if you decide to do a little creative writing.
Write down school lunch ideas. Busy parents often have a hard time when it comes to packing lunches. But a journal can help bring some inspiration to make mealtime at school both tasty and nutritional.
Make a list of shows you want to catch up on. With streaming services, there are more shows now than ever before. Keep a list in your journal to add to whenever a friend gives a good recommendation. You can also finally be prepared when someone asks you for good show recs!
Organize your day. It seems simple, but just a list of goals you want to achieve is a great use for a bulleted journal.
Keep track of alcohol intake. Sometimes, seeing how much you drink will be an educational first step if you're thinking of cutting back your consumption.
Use it to write down fun inventions. Sometimes, the best ideas come at us during the worst times of the day. If you carry around a journal, you can make sure none of your ideas leave your mind before they make it onto Shark Tank.
Keep track of your finances. Try jotting down your spending by category. See how much you actually spend each month on entertainment and fast food.
Write down the number of subscriptions you have. It's easy to lose track of subscriptions, from magazines to app bundles. Every time you sign up for something new, jot down the amount and the day you usually get billed. It's good information to keep handy.
Write down all the things you want to do for fun. Planning can be just as exciting as the actual event. But this is a chance to put all your ideas in one place.
List all the places you've been and the places you want to visit. You'll feel really great when you get to cross them off your list.
Write down your favorite quotes from movies, books, or people. Sometimes the people around us or the mediums we interact with drop some gems that would be perfect to revisit when you're in a particular headspace.
Make an undo list. Everyone has bad habits, and some have a bit more than others. But no worries! If there are a few practices you want to give up, an undo list is an excellent way to keep track of the things you want to change. As you cross each habit off the list, it'll feel great to watch it grow smaller.
This article was originally published on