Busy Philipps Gets Honest About Trying 'So F*cking Hard' In Motherhood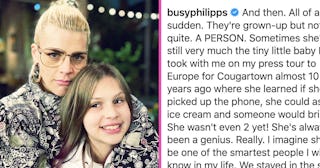 Busy Philipps/Instagram
The pressure we put on ourselves to be the perfect role model for our kids is VERY real
Busy Philipps is bubbly, funny, entertaining, smart, a talented actress, and an accomplished writer. She's also a mother to two little girls, and is opening up about what it's like to feel the pressure of being a role model as a parent — and how "f*cking hard" she tries at everything in her life, even when it feels like it's not worth it.
In a lengthy Instagram post, Busy shares a photo of her older daughter, Birdie, and how much she's grown up into being her own little person. It's the most wonderful and heartbreaking part of parenthood — watching them grow up and come into their own. It often makes us sappy in our nostalgia, doesn't it?
"And then. All of a sudden. They're grown-up but not quite. A PERSON," Busy writes in the caption. "Sometimes she's still very much the tiny little baby I took with me on my press tour to Europe for Cougartown almost 10 years ago where she learned if she picked up the phone, she could ask for ice cream and someone would bring it."
It's crazy how we can look at our children and, no matter what age they are, we still see them as their baby selves — even if it's just for a moment, just a certain expression or mannerism and BAM, they're our babies again.
Busy explains that when Birdie was little and she was busy working on the hit series Cougartown, her daughter was cared for by a nanny. Like so many working parents, the guilt seeps in that we're not 100% present for them at all times because sometimes other people have to be.
"It made sense at the time but now I don't know," she reflects. "Maybe she should have been with me. I was doing my best. To be all the things. Well. I hope I did my best but I know maybe I didn't sometimes (a lot of times) and that's the thing that'll keep me awake for the rest of my life, I guess."
She then explains that she's been someone who "tries hard" at everything she's ever done, her whole entire life. And even when you give everything "150 percent" at all times, it can still feel like it's not enough. Especially in parenthood.
"I try SO HARD. Everything I do, I'm doing my fucking best," she says, lamenting the fact that her show, Busy Tonight, didn't get picked up for a second season and was basically just shut down with little notice. It's enough to make anyone want to just stop trying, when your effort doesn't feel like it's paying off. Or, like Busy says, when you're not living up to the impossible standards you set for yourself. But she also says she doesn't feel like that's the "answer," because sometimes things are out of our control no matter how hard we don't want them to be.
"Maybe the trick is, I have to start living my life with the belief that EVERYONE is doing their best, and trying their hardest," she concludes. "I love my kids more than anything in the world and all I ever want is for them is to feel that and know it. I'm not writing this so you can comment that they will or that I'm a good mom or whatever. I'm just writing this because I assume I'm not the only one who feels this. And it's nice to not feel alone."