Kristin Chenoweth To Host A New, Candy Land-Inspired Food Competition Show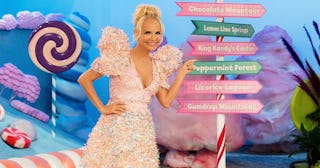 Food Network
The Food Network show is scheduled to premiere mid-November
Candy Land is a classic board game enjoyed by generations of kids and adults alike. Now, future generations will be able to see the game come to life because Food Network created a baking competition show inspired by the beloved Hasbro game.
Viewers will be taken on a journey through life-sized versions of Gumdrop Mountains, Lollipop Woods, Licorice Lagoon, and Chocolate Mountain, while contestants bake up sweet treats unique to each land. Chef judges Nacho Aguirre and Aarti Sequeira are on board, and none other than Emmy- and Tony-winning actress Kristin Chenoweth is set to host.
https://www.instagram.com/p/CGSfitrARI3/
"Anybody that knows me knows I don't go in my kitchen," Chenoweth told USA Today. "Kitchens actually make me nervous, so when Food Network called, I thought somebody was pranking me."
The six-episode series showcases professional cake and sugar artists competing in Candy Land-inspired baking challenges, and the studio is set up to mimic the board game in all its glory. The first team to reach King Kandy's Castle wins a $25,000 prize.
According to the network, the goal of the competition is "to create heavenly confectionary showpieces, all the while being thrown curveballs every step of the way by Lord Licorice that puts the teams' skills to the ultimate test."
"Each episode features the teams stepping into one of the eye-popping lands come to life, including giant candy canes in the Peppermint Forest, life-size gumdrops at the Gumdrop Mountains, a real life gingerbread house at Chocolate Mountain, enormous and luscious lollipops in the Lollipop Woods, and lemons growing right off the vines in the Lemon Lime Springs," the press release states.
If this concept sounds right up your alley but you're already thinking "only six episodes? I can get through that in one afternoon," don't fret. Food Network said it already has a bunch of bonus content that will be available for viewers; and immediately after the first episode, the channel will air a David Bromstad-hosted behind-the-scenes special showing exactly what it took to bring a board game to life.
"I'm so excited for the world to see these talented confectionery artists and the incredible set," Chenoweth said in a statement. "And I can't wait to wear a dress again."
Courtney White, president of Food Network, in a statement that they are "thrilled to be able to offer our audience an escape to this magical land, and with Kristin Chenoweth as host, there is nobody better at taking viewers on this immersive journey for some fun and excitement." If you've never seen her in action, she's a pint-sized bundle of energy that's been on Broadway and in shows like The West Wing, Ugly Betty, and a recurring role on Fox's Glee. I can only imagine the amount of shenanigans she'll get up to with a lifetime supply of sugar on hand.
The series premieres Nov. 15 and will run on Sundays at 9/8c.