New Car, New Persona! 365+ Car Nicknames To Choose For Your Chariot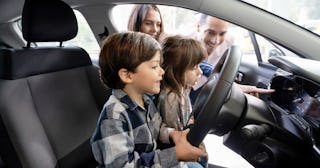 andres/Getty Images
Naming your new or new-to-you car can feel like a rite of passage for your new set of wheels. Some cars get a name instantly — before their new owner drives them off the lot. Some people like alliterations, like Figaro the Fiat or Vader the Veyron. Not everyone feels as gifted in the name-giving art as others, though, and sometimes you need a little help. We get it. Naming anything, from a pet pig to your kid's favorite plush fox, can often seem overwhelming. Whether you opt to borrow the moniker for your new Bug from your favorite OG Bug, Herbie, or name it based on its bright yellow color is all up to you. We're just here with a little car nicknames inspiration.
You're welcome to use one of these names exactly as they appear. However, they might inspire something completely different, and that's cool too. You might even name your car after your first, ahem, partner *in that car.* Whatever you decide, make sure it's fun to say — you'll be muttering it under your breath in traffic or every time your ride struggles to make it up a big hill. ("Come on, Eleanor! You can do it!")
Car Nicknames Based On Color
Black
Ace/Ace of Spades
Bandit
Batmobile
Black Beauty
Black Diamond
Black Jack
Black Magic
Black Mamba
Black Widow
Blackhawk
Dark Knight
Death Eater
Death Row
The Dementor
Godfather
Greaser
Grim/Grim Reaper
Jet/Jet Black
Mad Max
Mirage
Necromancer
Nero
Nightshade
Nitro
Obsidian
Panther
Reaper
Shadow
Sirius Black
Zorro
Blue
Baby Baluga
Baby Blue
Baloo
Big Blue
Blue Devil
Blueberry
Bluedini (Or The Great Bluedini)
Cookie Monster
Dory
Gonzo
Ice Cube
Ice Ice Baby
Jaws
Leonardo
Mako
Megamind
Mr. Freeze
Mystique
Papa Smurf
Poseidon
Serenity
Shark Attack
Smurf
Sonic
Street Genie
Sully
Tidal Wave
Gold/Silver
Axiom
Bender
Bling Bling
Bullet
Champion
Chardonnay
Chrome Sweet Chrome
Cleopatra
Crown Royal
DeLorean
Gold Digger
Gold Rush
Golden Girl
Golden Gun
Goldfinger
Goldilocks
Hi-Ho Silver
Honey
Iron Man
Jackpot
James Bond
King Midas
Knight in Shining Armor
Mercury
Moonlight Rider
Nugget
Olympia
Pewter
Pharaoh
Pixie Dust
Queen Bee
Scythe
Silver Fox
Silver Lightning
Silver Surfer
Soul Ride
Spark Plug
Sterling
Stormy
The Razor
Titanium
Tron
Green
Alien
Clover
Dragonfly
Drax
Emerald
Flubber
Frogger
Gamora
Great Gazoo
Greedo
Green Arrow
Green Giant
Green Goblin
Green Hornet
Green Lantern
Green Machine
Grinch
Gumby
Hulk
Irish Lass
Kermit
Kiwi Kruiser
Little Monster
Luigi
Marvin (The Martian)
Mean Green
Mike Wazowski
Mr. Green
Mr. Gus
Mr. Meseeks
Ninja Turtle
Oscar (The Grouch)
Perry (The Platypus)
Picklemobile
PickleRick
Plankton
Poison Ivy
Princess Fiona
Ribbet
Shrek
Slimer
Swamp Thing
The Booger
The Green Goddess
The Hulk
Toyoda
Toyoshi
Yoda
Yoshi
Zombie
Gray
Bender
Bullet
Dorian
Foggy Night/Foggy Morning
Grey Matter
Jedi
Magneto
Mando
Mr. Grey Sky
Nightshade
Robocop
Smoke
Stainless
Steely Dan
Storm
The Force
Tongs
Red
Big Red
Blazing Saddles
Blood Diamond
Bloodshot
Bloody Mary
Ch-Ch-Cherry Bomb
Clifford, the Big Red Car
Diablo
Dynamite
Ferris Bueller
General Lee
Hellboy
Highway to Hell
Iron Man
Komoda
Ladybug
Lightning McQueen
Magnum PI
Mater
Merlot
Nightcrawler
Red Bull
Red Hot
Red October
Ron Burgundy
Roseanne
Scarlet Witch
Scorpio
TNT
Yosemite Sam
White
Avalanche
Crossbones
Diamond
Draco
Fang
Fogger
Frostbite
Ghostbuster
Great White
Herbie
Icepick
Nimbus
Marshmallow
Moby Dick
Polar Bear
Pretty Fly (For a White Guy)
Rogue (The X-Men)
Shelly
Sinatra
Snowball
Snow Break
Stay Puft
Storm (The Marvel character)
Sub Zero
Vampirina
Whisper
White Cap
White Noise
White Out
White Shadow
Yellow
Banana Split
Banana Mobile
Big Bird
Blondie
Bumble Bee
Buttercup
Citron
Cruisin' Canary
Del Sol
Ducky
Firefly
Illuminati
Lemon
Lightning
Lightning Bug
Mellow Yellow
Minion Mobile
Python
Solar Flare
Spicy Mustard
Sunflower
Sunshine
Tequila Sunrise
Tweety Bird
Wolverine
Yellowjacket
Fast Cars
Apollo
Blink
Bolt
Boomer
Brimstone
Burn/Burner
Clockwork Orange
Demon/Devil
Dust Devil
Emperor Furiosa
Fast
Fast and Furious
Firebrand
Furiosa
Kapow
KO
Lightning
Pacer
Pink Slips
Record Breaker
Roadrunner
Scorch
Screech
Smoke
SpeedX
Swoosh
TKO
Torcher
Usain
Zinger
Zip
Car Names for Big Cars and Trucks
10-Gallon (Like the hat)
Andre The Giant
Big and Tall
Big Pappa
Bigfoot
Clydesdale
Crusher
Destroyer
Everest
Fat Man
Gladiator
Gorilla
Grande (Or Venti, if you're a Starbucks fiend)
Gravedigger
High Roller
Maximus
Monster
Nessie
Notorious
Overcompensator
Payday
Slammer
Tank
Titanic
Tone Zone
XXL
Zeus
Car Names for Small Cars
Ally
Blip
Bon Bon
Boop
Cookie
Cupcakes
Dottie
Kenny
Kipp
Kisses
Kit
Kutcher
Lovebug
Olly
Pickle
Pokie
Polka
Pony
Sugar
Zippy
Zoomies
Fancy Car Names
Allen
Aston
Axe
Baron
Bentley
Brandon
Clayton
Cleopatra
Dale
Devin
Fabiola
Jackson
Jazz
Jeffrey
Jeremy
Malcolm
Mark
Martin
Oliver
Otis
Richard
Roger
Romeo
Sampson
Shanae
Stanley
Vincent
Names for RVs
Some people have cars, while others have homes on wheels. Recreational vehicles are arguably one of the coolest set of wheels on the road. So if you have one or are thinking about getting one, here are a few names to keep in mind for naming your whip.
Easy Goin'
Happy Camper
Happy Days
Lazy Days
Rainbow Chaser
RV There Yet?
The Shack
Voyager
Wanderlust
Wayfarer
This article was originally published on