Kulture Does Cardi B's Makeup And It's Truly A Masterpiece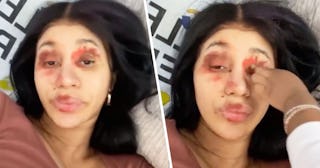 Cardi B/Instagram
The adorable toddler was more than happy to give her mama a little bit of makeup drama
Rapper and overall badass Cardi B is enjoying her "mama-and-me" time with daughter Kulture Kiari. On Wednesday, the Cardi Tries star posted a video of her 2-and-a-half-year-old daughter giving her a makeover. And in the vid, Kulture appears rubbing — using her fingers — different colors of makeup on her mum's eyelids and lips.
The rapper, who recently appeared in a Super Bowl commercial reboot of Wayne's World alongside Mike Myers and Dana Carvey, shows off her trademark wit in the short video.
"I look pretty?" Cardi questions her kiddo.
Like the true lil' queen she is, the toddler answers, "I'll let you know when I'm done."
The sweet post comes a day after Cardi posted a video of herself makeup-free in reaction to negative comments.
"This is my face after wakin' up 20 minutes ago, no filter, hair not brushed, lip chap all that," she wrote in the caption of the Instagram post. "I never been afraid to show my real self."
Cardi went on to write, "I'm confident in my own skin. You bitches need to ask ya self if ya confidence in ya self enough that ya gotta try to bring bitches down for a hobby that's winning and in their 20s."
Cardi has been open about how she raises her daughter, how much she chooses to spend on the little girl, and how she shields her from her music.
In a recent Instagram Live video, the rapper videoed herself singing along to her hit song with Megan Thee Stallion, "WAP," when little Kulture wandered into the room. In a move mama's everywhere recognized, Cardi immediately turned the song off, saying, "No, no, no, no," before taking a sip of her wine.
The chef's-kiss perfection of the move was in how she pretended as if nothing had happened. That's pure mama magic right there.
At the time, people on Twitter criticized Cardi for what they believed was her being hypocritical.
"So ya daughter cant listen to it but everybody else's daughter can?" the Twitter user wrote. "@iamcardib. AW OKAY ! Exactly what I been saying you have an agenda to push with that trash ass label your with. DISGUSTING."
Cardi replied to the tweet and defended herself, stating that her music was for grown-ups, not kids.
"Ya needs to stop with this already!" Cardi hit back. "I'm not [JoJo Siwa]! I don't make music for kids I make music for adults. Parents are responsible on what their children listen too or see. I'm a very sexual person but not around my child just like every other parent should be."
As it should be. Let she who has accidentally listened to a non-Kidz Bop version of a song within earshot of her children cast the first stone.
Anyone?
Exactly.