Cardi B's New Vogue Cover Story Is A Testament To Being A Working Mom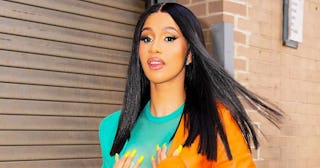 Gotham/Getty
Cardi B makes history as the first female rapper to grace Vogue and shares her badass parenting philosophy in the process
This month, Vogue decided to devote four covers to four fearless creative forces, role models, and mothers. Among them? None other than our favorite "regular degular schmegular girl from the Bronx," who made history as the first female rapper to land on the mag's cover. And if you ask us, it was an inspired choice. There are celebrity parents who present motherhood in perfect, shiny squares on social media — and then there's Cardi B, the queen of keeping it real.
Since giving birth to daughter Kulture in July 2018, the 27-year-old New Yorker hasn't shied away from sharing mom struggles as she makes her way through them. Refreshingly, she stayed true to that candor in her interview with Vogue. When her 17-month-old toddled into the room during the conversation, the tough-talking rapper pulled the little girl in for a big hug before admitting that she's still trying to figure out the whole work-life balance thing (same, Cardi, same).
"Being a mom—how can I say it? Things are a little bit harder to balance, but it's good for the mental. Like, if I'm playing with my daughter, I forget about the issues," she told the magazine, alluding to the seemingly constant barrage of negativity being hurled at her on social media over everything from her music to her ability to mother.
One of the things people love about Cardi so much is that she gives no fucks. She and Lizzo could share Lizzo's tiny purse because, even between the both of them, they'd still have room in the pocket-sized purse after filling it with all the fucks they have. Having said that, it doesn't mean that dealing with the constant slog of internet scrutiny is easy.
For Cardi B, the onslaught really ramped up when she and husband Offset announced her pregnancy. "When I was pregnant with Kulture, a lot of people was like, oh, he has three kids already; why would you have a kid with somebody that have three kids? And it's like, how is that such a bad thing? My dad has eight kids, and we all get along, and it feels better, fuller. And with Offset, I feel like his kids just bring a pop of fun to life when they're in his house. I actually love it. It brings out a different side of him that I like to see, and I love to see my baby interacting with her siblings. The more the merrier," she said.
And, really, someone give Cardi all the awards for keeping her cool (erm, mostly) during what is a ridiculously emotional time in a woman's life. Can you imagine, as a pregnant woman with a swirling vortex of hormones raging in your body, having to field near-constant comments about your life choices? Nope, uh uh. Do not sign us up for that nonsense.
Fortunately, Cardi B is a self-professed emotional gangster… maybe even more so now that she's a mom. "She's balancing a lot," Offset told Vogue of his wife. "She feels like she can't be absent a lot, and our jobs are crazy. But I think motherhood got her more focused. I always tell her, don't follow the comments. But she's been outspoken on things since before she was making music — she's not ever putting on, she's not ever being cool. At the end of the day, she's still going to rap about the same shit, which is what it's like being a woman."
Of course, what that looks like is a little different for every woman. For Cardi, she has to contend with things that you and I probably don't deal with on a daily basis, like touring the globe to perform. Now that flying has become harder on Kulture, the rapper has instituted a new rule: If she won't be in a stop for more than five days, she leaves her daughter at home with family.
That protocol is easier said than followed, though. "But now that's getting harder, because she's sleeping on my chest and she doesn't want to let me go, or she sees you on FaceTime and she's crying," Cardi shared. "It's kind of like a friendship now, and it's hard to leave your little friend."
But there are still those who suggest Cardi's lifestyle choices (read: her past as a stripper, her violent lyrics) make her a bad mother. To that end, Cardi makes one hell of a point. "I could shake my ass, I could be the most ratchet-est person ever, I could get into a fight tomorrow, but I'm still a great mom," she says. "I give my daughter so much love, and I'm setting her up for a future." Okuuurrrt?
Besides, as Cardi points out, everything she has done and everywhere she is going all serves a singular purpose: teaching her daughter how to be a woman in a man's world. Discussing the possible kid's clothing collaboration with Offset, the mama-of-one joked that her 17-month-old would be the real CEO. "Right, Kulture? I'm busting my ass right now so you could have a good car when you're 18, so you can go to school and have an apartment that I could pay for," she said, adding, "If my daughter wants to go to college, that's okay, but I just want her to be an owner of whatever the fuck she wants to own. Just be an owner. Be the boss."
This article was originally published on