CBS Is Totally Re-Doing 'The Activist' Show Because It Was A Terrible Idea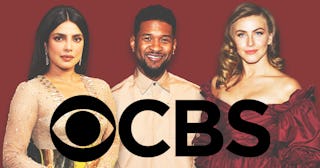 Scary Mommy, CBS and Rich Fury/Paras Griffin/Amy Sussman
Instead of being a competition-based reality show (LOL), The Activist will now be a single-episode documentary and… well, OK then
Earlier this week, social media was perplexed by the news of a forthcoming CBS reality series titled The Activist, in which internet-famous activists would compete against each other in a series of challenges designed to, we guess, see who is the best at doing some good things for the world.
Though the series had been announced back in May, it didn't receive widespread attention until its hosts — Usher, Priyanka Chopra, and Julianne Hough — were confirmed, with many pointing out the inherent flaws and head-scratching confusion about both the premise and the choice of celebrities at play here.
Per a description of the unscripted series on Variety, the original premise slated to bring together "six activists from around the world working to bring change to one of three causes: health, education, and the environment." Each one would "compete in missions, media stunts, digital campaigns, and community events in order to garner attention and raise awareness," with success measured via "online engagement, including social media metrics, with the hosts' opinions and input also counting."
Naturally, backlash to the series was swift and unrelenting, with plenty calling out the hypocrisy of spending lots of money to produce a series like this when the money could simply be given to people and organizations doing this work with limited resources. Critics were also less than pleased by the choice of "judges," pointing out the fact that as recently as April of this year, mega-rich Usher reportedly gave fake money to a stripper — a claim the strip club has denied. There's also Hough, who wore blackface on Halloween in 2013 — she apologized for it quickly thereafter, but the internet never forgets, and frankly, she should have known better.
Then there's Chopra, who has a slew of controversies under her belt, including showing public support for Indian armed forces after they conducted airstrikes in Pakistan in 2019, as well as calling herself "apolitical" and instead a "humanitarian," as if those two things aren't inherently at odds with one another.
Now, CBS execs are retooling the series altogether, turning it into a documentary special that will instead highlight the work of each activist, per Variety. In response to the backlash, CBS and its producing partners Global Citizen and Live Nation, shared a lengthy statement addressing the new plans and apologizing "to the activists, hosts, and the larger activist community — we got it wrong," adding, "Global activism centers on collaboration and cooperation, not competition."
The only host to publicly address the series so far is Hough, who is doing what every wealthy white person does these days when they're called out: She's "deeply listening with an open heart and mind." She also notes that she heard folks saying the show was "performative, promoted pseudo-activism over real activism, felt tone-deaf, like Black Mirror, The Hunger games, and that the hosts weren't qualified to assess activism because we are celebrities and not activists."
Hough's statement spans four Instagram slides, so you know it's serious. She also addressed the blackface incident, and wants you to know that she's "listening."
No word yet on when the retooled episode will air, but here's hoping that the vast majority of profits at play here go to organizations actually doing the work that doesn't fit neatly into Instagram galleries and viral tweet threads…because that's the work that matters.