Zoë Kravitz Is The Reason Channing Tatum's Done With Crocs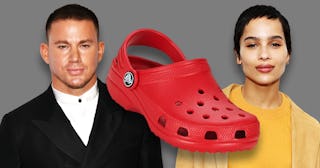 Crocs and Jeff Kravitz/FilmMagic/Cindy Ord/Getty
When Channing Tatum showed up to his first meeting with Zoë Kravitz wearing Crocs, she had some things to say about his footwear of choice
Whether you count yourself among the many longtime fans of Crocs or came around to them during quarantine when all rules and guidelines about fashion (finally!) went out the window and comfort was king, you might be delighted to know that even Channing Tatum shares your feelings.
In an interview with Deadline to promote his upcoming movie, Pussy Island, in which he stars alongside Zoë Kravitz, Tatum revealed that he showed up for his first meeting with Kravitz donning a pair of Crocs — at which point she promptly told him he can't pull them off.
Kravitz tapped the Magic Mike alum to play the male lead opposite her in the forthcoming thriller, which also serves as her directorial debut. She knew she wanted him in the role, and when they were able to link up to meet in person, it seems she wasn't a fan of his comfy footwear of choice… though it also seems he took it all, ahem, in stride.
"When someone can just come out and tell me I should not be wearing Crocs, and is so adamant about it, she completely convinced me and I never wear Crocs anymore," said Tatum.
She explained that she was "just trying to be a good friend," to which he responded, "I get it, but I totally loved Crocs for a hot second, and in one hang she was like, 'you can't ever do that again.' And I said, 'OK, fine.'"
Kravitz clarified that the trendy footwear beloved by celebs like Drew Barrymore, Ariana Grande, and Justin Bieber, among others, does work on some people… but apparently not Tatum. "Just to be clear, there are people out there who can pull off the Crocs thing; I just wasn't sure you were one of them," she said.
Sadly, it seems Tatum hasn't sported a pair of the ultra comfy kicks since, sharing, "I feel cooler, and her point of view on me and Crocs was legit. She had a good argument. The one thing I can pull off, is listening."
For the record, we would love to see him rocking Crocs and we're certain he can pull them off flawlessly. Wear those Crocs proudly, Channing, and don't listen to what the haters (and your new co-stars) might say.