Chrissy Teigen Talks About 'Cancel Club' And People Aren't Ready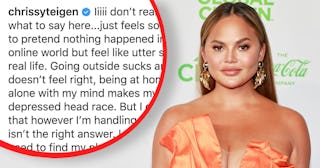 Chrissy Teigen/Instagram and Emma McIntyre/Getty
Chrissy Teigen is trying to make her way back to social media after becoming a member of the "cancel club" and it looks like the internet isn't quite here for it yet
Not too long ago, Courtney Stodden made shocking claims about Chrissy Teigen sending them messages telling them to take a "dirt nap" when they were only a teen, and an apology attempt Teigen claims she made that Stodden says they never received. In internet time, it's been awhile since the story surfaced and in the months since, Teigen has been largely silent on social media. Now, Teigen is sharing her candid thoughts on being part of the "cancel club" in a new Instagram post about her life since Stodden's disturbing revelations and it turns out, the internet isn't quite ready to have this conversation.
The model and mom to Luna and Miles took to Insta last night with a long post about what life has been like for her since Stodden's May interview in which they disclosed the abuse they allegedly suffered via Teigen on Twitter.
"Iiiii don't really know what to say here…just feels so weird to pretend nothing happened in this online world but feel like utter shit in real life. Going outside sucks and doesn't feel right, being at home alone with my mind makes my depressed head race. But I do know that however I'm handling this now isn't the right answer," Teigen writes.
"Cancel club is a fascinating thing and I have learned a whollllle lot," she admits. "Only a few understand it and it's impossible to know til you're in it. And it's hard to talk about it in that sense because obviously you sound whiney when you've clearly done something wrong. It just sucks."
Teigen claims there is "no winning" in her current situation but that she loves and misses interacting with her following. "I don't even know if it's good to say any of this because it's gonna get brutally picked apart but I dunno. I can't do this silent shit anymore!" she writes.
The reactions to her post were swift — and brutal.
It seems some folks think Teigen needs to do a better job of reading the room when it comes to her situation and that of others in a far worse position.
Others pointed out that Teigen is talking about being "cancelled" to her literal millions of followers.
But it could be argued that having that big following doesn't mean much if you've gotten the strong message that you've been "cancelled" and shouldn't be posting.
Does Chrissy need to stay silent on her socials forever? Is that what the public wants? Or will people start to forget one day the "why" of her cancellation so she can slowly make her way back? It all remains to be seen but it looks like at this moment, folks aren't ready yet for Teigen's return no matter how she approaches it.
This article was originally published on