Chrissy Teigen DM'ed Courtney Stodden To 'Kill Themself' And Her Apology Sucks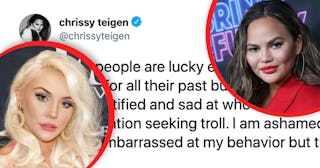 Chrissy Teigen/Twitter and Tibrina Hobson/David Livingston/Getty
Chrissy Teigen claims she apologized to Courtney Stodden after DMing them to "kill themself," but Stodden says it never happened
Where to even start with all the drama surrounding Chrissy Teigen right now? The former model announced a few weeks ago that she was leaving Twitter amid what she called "meanness" from her fans who were calling her out for her collab on a line of cleaning products with Kris Jenner. Soon, though, she was back on the platform, just in time for Courtney Stodden to release a bombshell interview with The Daily Beast, which included recounting the vile harassment they used to receive from Teigen on social media.
In case you don't remember, Courtney Stodden was a teenager who made headlines in 2011 when they, a 16-year-old, married 50-year-old acting coach Doug Hutchison. Stodden was widely ridiculed by the media and the public, and constantly slut shamed, despite the fact that they were a teenager being groomed and trapped in an abusive marriage to an adult man. Now, amid our more recent scrutiny of how the media treated young girls after Framing Britney Spears was released, Stodden, who is non-binary and goes by they/them pronouns, is speaking out about their treatment during that time when, again, they were an actual child.
One of the most horrifying parts of Stodden's interview is when they describe how Chrissy Teigen constantly harassed them on Twitter, seemingly for no reason.
"She wouldn't just publicly tweet about wanting me to take 'a dirt nap' but would privately DM me and tell me to kill myself. Things like, 'I can't wait for you to die,'" Stodden explained. That was real. The tweets Teigen sent during that time have since been deleted, but they were beyond vile. The "dirt nap" tweet Stodden referenced is among them along with one that tells them to "go. to sleep. forever."
After days of fallout, Teigen issued an apology on Twitter.
Setting aside, for a moment, the fact that that half-baked apology focuses solely on herself and not the damage she caused, Teigen claims she reached out to Stodden personally to apologize. But soon after the apology, Stodden posted on Instagram that they had not heard anything from Teigen, and that Teigen had, in fact, blocked them on social media.
"All of me wants to believe this is a sincere apology, but it feels like a public attempt to save her partnerships with Target and other brands who are realizing her 'wokeness' is a broken record," Stodden wrote.
What's really surprising about this whole situation is that it's taken so long to happen. Teigen has long bullied people on Twitter, under the guise of making "clapbacks." Last summer, she purged 60,000 tweets from her account, removing evidence of much of her past bullying. But nothing is ever truly gone on the internet.
She allegedly body-shamed Mariah Carey during her pregnancy.
And allegedly made light of self-harm with this tweet directed at Lindsay Lohan.
And those are just the ones directed at celebrities. Teigen has been disguising bullying as "humor" for years, and it's about time she got called out for it. Will she actually change, though? That remains to be seen.
This article was originally published on