Chrissy Teigen's 'Influencer' Alter Ego Is Both Weird And Oddly Captivating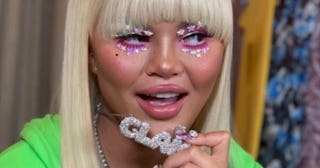 Chrissy Teigen Instagram
Chrissy Teigen debuted her alter ego 'Chrissy Gogurt' on her Cravings YouTube channel
Chrissy Teigen puts herself out there, yo. Our favorite model-turned entrepreneur puts her heart in everything she does, whether it's the raw and devastating posts about the pre-term loss of her son, Jack, or sweet vignettes of her life with partner John Legend and their kiddos, Myles, and Luna. And Chrissy also brings that same energy to her newest video, "A Day In The Life Of Chrissy Gogurt'" which is an oddly satisfying, and deeply weird, video wherein Teigen pretends to be an influencer called "Chrissy Gogurt" and well, just watch.
The clip hilariously highlights merch from Chrissy's Cravings line, which includes everything from meal kits to cookbooks, as well as branded items like sweatshirts and seasoning blends.
Mega-influencer Chrissy Gogurt begins her day like any other influencer: At 12:15 p.m. sharp. After lamenting to an assistant that she "just wants to unbox something," "Gogurt" then spends the next four hours in a makeup chair.
Freshly pressed, our girl sports glitter on her lashes and nails, all while carrying off an impressive amount of shimmery highlighter. A meal delivery comes, and Gogurt hilariously unboxes burgers and fries for the camera, her bright pink tresses cascading all over the food.
Teigen gave fans a glimpse of Gogurt earlier in the week, teasing the debut of her alter ego on Instagram. "Cravings finally has it's first brand ambassador!! CHRISSY GOGURT (influencer, artist, singer / songwriter) is HERE and READY," Teigen shared.
"She took a break from recording an upcoming album with John to take over Cravings social. Click the link in bio to watch the full video and get to know….CHRISSY GOGURT."
"I mean, come on, Cravings has the best boxes that I have ever opened," Gogurt raves while unboxing some Cravings merch. "When I get a box the feeling that comes over me is overwhelming."
Cut to a scene with Gogurt, wearing the best knee-high glitter boots, splayed on the floor, spooning an unopened Cravings box. Hilarious, yes?
Now ready to open her Cravings box, Gogurt sits on a couch while her assistants (topknots visible from their hiding spots) pop confetti for the occasion. Gogurt unboxes Teigen's "family pan" before moving on to the next.
The problem, however, is that Gogurt, unlike Teigen, does not know how to cook and takes the chicken nuggets from her meal kit and places them in her braiser. In an inch of water. Gogurt informs viewers the process is called "steam braising." The Cravings team makes sure to explain that it in no way endorses or recommends steam braising.
Undeterred, Gogurt tells viewers that steam braising makes all foods moist. Ummm…okay?
Next on the list is recording a hit single with John Legend, and this is where things get even stranger. In the best way. Gogurt warms up in her closet before approaching the piano. "So I line up my seat with the Y here and the A here," Gogurt says about her placement in front of the Yamaha instrument. However, Gogurt gets a case of stage fright.
"C'mon Gogurt, get it together," she tells herself. "What would Mom say?"
Gogurt's song, while not exactly a bop, is…something. Lyrics include: "You and you and you and you and you./You can be the members of my Chrissy Gogurt crew."
Never change, Teigen. Never change.