Rejoice! The Trailer For 'A Christmas Prince: The Royal Baby' Is Here!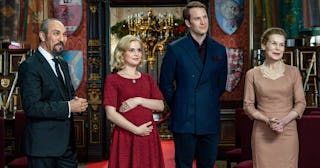 Save the date, because another joyfully horrible Christmas Prince movie is due soon
Forget about ugly Christmas sweaters; another Christmas Prince movie on Netflix every year is the new delightfully cheesy holiday tradition you can't resist. And this year the streaming service truly outdid itself. The trailer for A Christmas Prince: The Royal Baby has arrived, and its plot looks like even more of a festive Frankenstein than its predecessors. Somehow, the forthcoming film has managed to stitch together a crime caper, a sacred truce, a firstborn curse, a campy homage to Cinderella, and even a slight feminist slant.
You may have been one of the 53 people who watched 2017's A Christmas Prince every day for 18 days straight. But if not, here's a quick recap. The first two films saw an aspiring journalist named Amber (Rose McIver) sent on location to the fictional European country of Aldovia. This tells us two things, right upfront. First, the creators clearly watched Princess Diaries one too many times. Like, what? Is Aldovia a neighboring country of Genovia? And, second, I'm clearly failing at the whole freelance writer's life. I've never had an editor offer to bankroll me on an open-ended trip to a fancy foreign locale.
Because this franchise borrows from, well, basically every cheesy holiday rom-com ever made, Amber meets and falls in love with Prince Richard (Ben Lamb). They got hitched in last year's installment, so this year's contribution follows them as they embark on a new adventure: impending parenthood. But, y'all, it's Christmastime in Aldovia, which can mean only one thing… drama. It wouldn't be a royal Aldovian holiday if the castle halls weren't decked with intrigue.
To that end, the trailer for A Christmas Prince: The Royal Baby reveals that Queen Amber and King Richard are expecting a royal baby. Before they can take time off for their firstborn's arrival, though, they must host King Tai (Kevin Shen) and Queen Ming (Momo Yeung) of Penglia to forge a sacred 600-year-old truce. When it comes time to sign on the dotted line — cue a dramatic da-da-duhhhh — the ancient artifact is missing.
You thought this was just a movie about Amber and Richard having a baby? Have you learned nothing from the ghost of Christmas Prince movies past? This movie's subplots have subplots. The primary story is the royal baby, sure. But then a secondary arc centers on the missing treaty. A tertiary arc introduces a looming curse on the aforementioned firstborn child. As if all of that isn't bananas enough, the movie also manages to stuff in a few Cinderella nods. They must find the thief before the clock strikes midnight! Amber can't bend over to get her slippers on, so Richard slides them on for her!
No word yet on whether the movie will also feature a baby shower for Amber. However, this hot mess of holiday fluff feels a lot like being showered with gifts to us.
A Christmas Prince: The Royal Baby arrives on Netflix on December 5.