Have You Heard Of The Internet's Hardest Puzzle And Biggest Mystery? Check Out Cicada 3301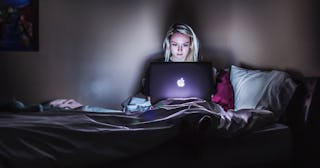 Victoria Heath/Unsplash
What's the hardest puzzle on the internet? It's not a giant sudoku board or Will Shortz' hardest crosswords. If you're wondering about the hardest puzzle games online, they're the mysterious and wildly difficult Cicada 3301 puzzles. Not a quick game for your family game night, only three Cicada 3301 puzzles exist, and, to date, only two have been solved. The third puzzle, released in January of 2014, is nearly seven years old and still, codebreakers around the world have yet to figure it out.
Everyone loves a good puzzle or something that challenges you to think harder than you normally would. If you're obsessed with brainteasers, we may have found the puzzle that will stump you. So if you're looking for a super test, try your hand at the Cicada 3301. It's still a mystery to many but who knows? Your mind might be the key.
Looking for more brainteasers? Check out our fun puzzling pages like online brain games for seniors, funny brain teasers, and more.
What are the Cicada 3301 puzzles?
The first Cicada 3301 puzzle appeared on 4chan on January 4, 2012. But, puzzles and clues have appeared in all kinds of forms. There were even paper signs posted in 14 cities across the world. It's also rumored that the organization behind Cicada 3301 communicates through a variety of channels. It started with a simple image: white on a black background, with a note that said, "Hello. We are looking for highly intelligent individuals. To find them, we have devised a test. There is a message hidden in this image. Find it, and it will lead you on the road to finding us. We look forward to meeting the few that will make it all the way through. Good luck."
Within that message there was not only a clue to the next step but also decoys, using older well-known ciphering methods. It was designed to stump and spiral anyone who took a crack… and plenty of people did. In order to solve the first puzzle, it required knowledge of everything from Victorian Occults to classical music. There was even a clue only accessible by traveling to Hawaii. It was, in essence, a very nerdy scavenger hunt across the globe and deep into the darknet. For every few eager participants was another naysayer convinced that whoever was behind Cicada 3301 was clearly only up to no good. Nearly nine years since its first puzzle was released, we're still unsure what Cicada 3301 is, who they are, what they stand for, and what is the real purpose behind their clues.
https://www.instagram.com/p/CD9rNzIg9XA/?utm_source=ig_web_button_share_sheet
Why do the Cicada 3301 puzzles exist?
That, Dear Watson, might be the most alluring part of the Cicada 3301 puzzles. No one truly knows who released them or why. Some say they were used as a recruitment test for the CIA, NSA, or MI6. Others believe they were created by a dark and secretive society. Of course, the Illuminati is rumored to be involved. Even the great minds who managed to solve the first two puzzles don't seem willing to share the details of the puzzles' origins.
Is it really the hardest puzzle ever?
While plenty of people believe that the Cicada 3301 puzzles might be the hardest puzzles in the world (ever), that might not be true. Another famous coded "puzzle," called "Kryptos," has actually existed much longer. Kryptos is a sculpture that stands out in front of the CIA headquarters in Langley, Virginia. The artist, Jim Sanborn, created and placed the sculpture in 1992 and claims that the markings on the Kryptos are actually a cipher and that there is a hidden message behind it. That's right. Every single day, some of America's most brilliant puzzle-solvers walk by a giant puzzle on their way to work, and, so far, no one has solved it. So, Kryptos has lasted much longer and taunted people truly skilled at breaking codes and deciphering ciphers.
Of course, that's not even the oldest unsolved cipher. Royalty in the 15th, 16th, and 17th centuries especially were notorious for sending coded messages back and forth. While the original recipient may have understood the code, historians are often left clueless. One tricky 1498 message from King Ferdinand started with one ciphered pattern but ended in ten lines of a different code. The last ten lines remain unsolved. Even the Vatican has released ciphers they needed to have decoded.
While the Cicada 3301 puzzles might be the newest and, strangely, trendiest puzzles to have decoders buzzing, they may not actually be the hardest. After all… the first two have been solved.
Quotes About Puzzles
Need to hype yourself up for the challenge? Get inspiration and motivation from the following quotes about puzzles.
"The solution often turns out more beautiful than the puzzle." — Richard Dawkins
"A good puzzle, it's a fair thing. Nobody is lying. It's very clear, and the problem depends just on you." — Erno Rubik
"When I studied graphic design, I learned a valuable lesson: There's no perfect answer to the puzzle, and creativity is a renewable resource." — Biz Stone
"Puzzles are always a difficult thing. I don't think I've played any games where the puzzles are perfectly contextualized unless the entire game is a puzzle game built upon that concept." — Cory Barlog
"This idea of, there's a locked door; how do you open it? You don't necessarily care what's behind it. You're just more excited about opening the lock. It's not about finding the treasure; it's more about defeating the puzzle." — Harper Ree
"A mechanical puzzle is a self-contained object, composed of one or more parts, which involves a problem for one person to solve by manipulation using logic, reasoning, insight, luck, and/or dexterity." — Jerry Slocum
"Not every puzzle is intended to be solved. Some are in place to test your limits. Others are, in fact, not puzzles at all." — Vera Nazarian
"We are all important parts of a much larger system, pieces of the universe's puzzle that would not be complete without us." — Russell Eric Dobd
"The problems of puzzles are very near the problems of life, our whole life is solving puzzles. If you are hungry, you have to find something to eat. But everyday problems are very mixed they're not clear. The Cube's problem depends just on you. You can solve it independently. But to find happiness in life, you're not independent. That's the only big difference." — Erno Rubik
"Each person is an enigma. You're a puzzle not only to yourself but also to everyone else, and the great mystery of our time is how we penetrate this puzzle." — Theodore Zeldin
"I'm probably wouldn't do anything differently if I had to do it again. Every little thing that happens to you, good and bad, becomes a little piece of the puzzle of who you become. Every successful person you read about — Warren Buffett, Bill Gates — they all say pretty much the same thing. 'Do what you love.' I know I did." — David Foster
"The nice thing about doing a crossword puzzle is, you know there is a solution." — Stephen Sondheim
"Nothing whets the intelligence more than a passionate suspicion, nothing develops all the faculties of an immature mind more than a trail running away into the dark." — Stefan Zweig, The Burning Secret and other stories
"I could see why Archimedes got all excited. There was nothing finer than the feeling that came rushing through you when it clicked and you suddenly understood something that had puzzled you. It made you think it just might be possible to get a handle on this old world after all." — Jeannette Walls, Half Broke Horses
"(Love is the puzzle that) can't be solved. Catlike, it follows no rules but its own, and only it knows what they are. Also, it can change the rules any time it wants, in any way it wants, and there's nothing anyone can do about it." — Chris Dee, Cat-Tales Book 5
This article was originally published on