A New ColourPop X Disney Collection Is Coming And It Looks Magical AF
by Leah Groth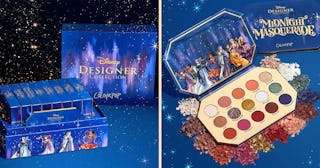 Colourpop
The latest collaboration between ColourPop and Disney is launching soon!
When it comes to Disney Princesses, there are a few truths. First, is that each and every one of them is totally awesome. Second, you are never too old to appreciate them. And third, there is no such thing as having too much Disney Princess in your life, whether they come in the form of socks, face masks, or even wine glasses. If you are searching for the perfect gift for the Disney Princess fanatic in your life (yourself included) then consider the new makeup collaboration between Disney and ColourPop your dream come true.
The Disney Designer Midnight Masquerade Collection is launching on ColourPop's website on Oct. 7, on ShopDisney.com and at Ulta on Oct. 13, and you are going to want every single piece of makeup in the collection.
Following the Designer Collection and Disney Villains Collection, this marks the third joint effort between Disney and the makeup purveyor. Every piece is inspired by the Midnight Masquerade doll series, featuring beautifully dreamy packaging inspired by the gals: Belle, Tiana, Esmeralda, Rapunzel, Megara, Cinderella, Aurora, and Giselle.
Seriously? How adorable is this Belle bundle?
You can splurge on one of their sets, such as the limited edition Disney Midnight Masquerade PR Set, for $191. It includes the Midnight Masquerade Palette and all 8 Princess bundles, each including a Lux Liquid Lipstick and Compact Blush or Highlighter.
They also are offering the Masquerade Magic Set for $166, complete with the Midnight Masquerade Palette, all 8 of the new Lux Liquid Lipsticks, 4 Compact Blushes, and 4 Compact Highlighters.
There are also less expensive sets, each inspired by its own princess, that will make for the perfect gift. For $55 you get a lip gloss and highlighter, eyeshadow palette and super cute makeup bag.
All the products are also available a la carte, starting at $8 for a Lux Liquid Lip.
The hardest part about shopping this makeup collection is going to be deciding what to buy, because the whole thing is so darn cute and the colors are awesome.
However, if you aren't a makeup person, then there are plenty of other options to channel your inner Disney Princess. In addition to those mentioned above, you can order up a bouquet of Disney inspired roses. Roseshire, a California based luxury online florist offers their Roseshire x Disney collection. The arrangements, all roses, are inspired by everything from all your favorite Disney princesses to even The Nightmare Before Christmas.
Or, consider splurging on some Disney princess inspired lingerie (disclaimer, the pieces are not made or endorsed by Disney.) And, if you are totally jealous of your child's Disney Princess swimsuit, join in on the fun with an adult-sized version, because why should kids have all the fun?
This article was originally published on