This Dad Takes His Daughter On Monthly Dates And It's Adorable
by Mike Julianelle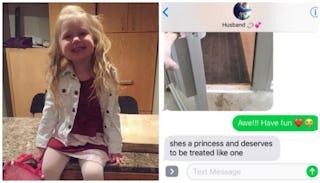 Image via Facebook
He helps her pick a dress and they go out for cake
As a sweet lesson in expecting manners and respect from others, a father is taking his daughter on a date once a month. Unfortunately for any women reading this, that father is already married.
The world was first alerted to the adorable duo when Caitlin Fladager, wife to Noah and mother of Arianna, wrote about her husband's plans on Facebook.
In the post, she wrote, "My husband decided once a month he will take our little girl out on a 'date' where she gets all dressed up and gets taken out for cake and ice cream. Tonight was there [sic] first night doing it."
Not only is Noah getting valuable bonding time with his little girl, he is using the daddy-daughter dates as a learning opportunity.
"She will always know how she deserves to be treated because her dad sets such a high example."
The post, which goes into detail about the behavior Noah is attempting to model for Arianna's future dates, has over 91,000 likes and more tan 42,000 shares.
"He helped her pick out a dress for her to wear, got a little purse ready for her, held the door open for her, and made her feel like a princess. She loved it was so happy when she got home."
Of course, little Arianna loves the dates!
She gets to spend time with her dad, and she gets cake and ice cream. I'd go on a "date" with my father right now if he promised to buy me a sugar cone loaded with a couple scoops of Moose Tracks. Arianna, presumably speaking to the paparrazzi after her glamorous night on the town, says she "can't wait for next time."
First things first, Arianna is four. If you're going to be one of those psychos who complains about daddy-daughter dates, you need therapy. There's nothing salacious about this, it's just semantics. Arianna dresses up – which, if she's anything like half the little girls I know, she probably already does on Tuesday afternoons for no reason at all, and the two of them go for cake and ice cream. It's time spent with her dad, and it doesn't get more innocent than that. The use of the term "date" needn't be seized upon by internet weirdos with nothing better to do.
When it comes down to it, what Noah is doing is teaching his daughter manners, and showing her how a gentleman (or any decent person) behaves, setting an example for how people in her life should treat her if they want to be worthy of her attention. I don't have a daughter, but I'm raising my sons to be feminists, to respect women, to use their manners, and to treat everyone equally.
I could just as easily take my sons out like Noah to teach them the same things. Maybe the Fladagers would enjoy a double date?
This article was originally published on