Pics Of A Dad And Step-Dad With Their Daughter Are Blended Family Goals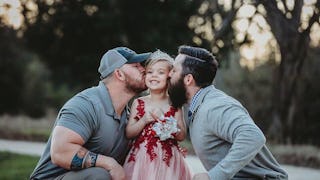 Image via Sarah Mengon
This dad and step-dad made a conscious decision to put aside macho feelings and become friends. And we can't get enough
When Sarah and David Mengon divorced, their daughter Willow was just a baby. When she met her new partner, Dylan, no one was quite sure how the new blended family situation was going to work. But for all three, two of which are children of divorce, they knew they wanted things to be different, and happier, for their daughter.
And the differences are big – as is apparent in a viral series of photos that Dylan shared on Facebook this weekend. They picture six-year-old Willow with her biological dad and her soon-to-be stepdad, both showering her with love before a daddy-daughter dance.
In one pic, both men are kissing their daughter. In another, they frame the beaming girl with their arms, hands touching.
"Our daughter Willow. You may never know how your love has changed us all," Dylan wrote.
"The guy to the left is myself (Daddy, Daddy Dylan or Bonus Dad), in the middle is of course our Princess Willow and the guy to the right is David (Daddy, Daddy David or biological Dad)," he continued. "No we are not a same sex couple, but we do share a daughter. David is Sarah's ex husband and I am the Fiancé. We have molded ourselves into one unique family, of only for the sake of our children to know the power of love. Not only did I gain a daughter, I gained a brother and a best friend. Thank you Sarah for letting this all happen!"
"When we care more about our children (on both sides of the party) than the way society has taught us to be towards (ex's/baby mommas/daddy's) then walls will fall, life will be free of hatred and remorse, and our children will conquer the foolish "norms" that media has shoved in our faces," the post continues.
"He stays at our home when he visits, because family is always welcome. He is not an outsider, he is and will always be apart of my life for the simple fact that we share the same daughter! Of course not a single moment would be like this without Sarah (mommy) and her kind and generous heart! Willow Grace you are loved by so many people in this world and your Daddies love you!"
"FYI David is SINGLE," Dylan added at the end.
The post has been liked over 209,000 times and shared over 120,000 times–and the trio says that they've gotten hundreds of messages from people who appreciate their story.
David told Scary Mommy that it was hard to meet Dylan for the first time, in between his deployments to Afghanistan, where he was serving with the Army. That first time, Dylan was carrying Willow in his arms, and dropping her off for a custody visit. While he initially had the tough feelings of sadness, anger, jealousy, and guilt upon seeing Dylan with Willow, the men both made an effort to get past all that for the sake of Sarah and Willow, as well as for themselves.
"I respected David because he's the bio father, and he respected me because I was there for the daily tasks while he was gone [on deployment]," Dylan said. "Everything meshed. We knew we were in this together."
Soon, respect turned into friendship and a deeper bond.
"There was a lot of hurt," said David. "It was challenging because it felt like I was failing her. It was heartbreaking. And the first time that she called [Dylan] 'Daddy,' that was a real challenge. But the longer I got to know him and interact with him, we hit it off. He would call and send pictures, he'd reach out and text me and check on me, and that started turning the tide of the jealously and hurt. He's got the biggest heart. He's just another person who loves her with all his heart. And the more that I got to know him as a man, I knew it was all genuine."
Now the two former military men talk regularly – and when David's in town or vice versa, they stay at the other's house, not to mention regularly hitting the gym together or just hanging out.
"I deployed twice and the second time was really hard," said David. "I called Dylan crying because I need someone to talk to — to know [Willow] was going to be okay when I was gone."
"There are things we confide to each other, that we might not go to Sarah about," said Dylan. "There have been painful things, we've shed some tears. But there is just a genuine love here."
Both David and Dylan's friends think that their situation is a little weird – especially when they stay at each other's houses or all hang out as a group (David and Sarah are still close friends). But both of them reject the social conventions that they should be bitter or territorial or macho about any of it.
"As far as the whole masculinity thing goes, I know men in general have huge egos that they think if they let their walls down, they're going to die or be judged, and it's quite silly," said Dylan. "I'm a pipe liner who works around a lot of rough-neck tough guys. If you let yourself be vulnerable, you fear you'll be seen as weak, but that's not the way it is at all. We accepted each other for who we are, and we know what we are to Willow. Willow knows that she's loved by me and Dave and that's all that matters. It doesn't matter who's there for what moment, it's what life lessons is she going to take away from us loving her."
"I had to be man enough to swallow those negative emotions of Dylan being a factor in my life," David agreed. "I was divorced, so I had to accept that someone else is going to come into [Sarah and Willow's] life. You have to just foster the love that's there and know that it's not a competition. It's about acceptance and swallowing your pride. We also want Willow to see how we treat her mom with respect and love."
As for Sarah, she couldn't be happier. A professional photographer, she captures tons of moments for her blended family, and makes sure everyone stays caught up, wherever they are. And when David and Dylan are together with Willow, she always takes a shot of each of them kissing the daughter they are raising together.
"I am ecstatic about it," she said. "I get double the support and help from these guys, and it could have been way worse if they weren't the way they are. Dave and I are best friends, I got this new guy — they're always laughing. Although sometimes they'll laugh at and team up on me."
She also, though, puts in hard work to make co-parenting work for everyone.
"For me, it's just to not be immature, and it's all about communicating," she said. "You can choose to answer the phone or not. You have to be an adult and think of your kids. If David calls, I answer it every time. You have to take the time out of your day to find that connection with your ex. David knows everything that happens to Willow. Make sure they feel involved and not left out, because feeling left out can spark emotions."
Dylan and Sarah are engaged and have a two-year-old daughter, Tatum, now. And David is happy hanging out with her, and helping to care for her in addition to Willow when he's visiting. In fact, she sometimes calls him Daddy as well — and everyone is totally fine with it.
"We don't teach the kids titles – it's all love," said David. "It's about how we treat each other. It's their choice what to call us. We don't let that get into the way of them growing up and being themselves and expressing themselves – and we nurture that as they grow."
As for Willow? She tells Scary Mommy what she thought of it all.
"It's cool because two dads feel good," she said. "It's great because they love me and I love them."
This article was originally published on