Alright, Alright, Alright! 30+ Epic Dazed And Confused Quotes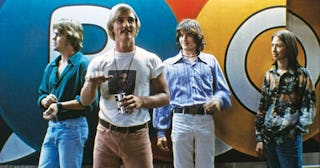 Gramercy Pictures
When Dazed and Confused was released in the '90s, it bombed. Hard. As in it only made about $2 million more than they spent to make the film. Since then, though, it's become a fun little cult classic. So much so that when they released the soundtrack, it went platinum. And it's now part of the Criterion Collection. Everyone from Quentin Tarantino to The Office's Pam lists it as one of their favorite movies. And, admittedly, there are myriad Dazed and Confused quotes we bust out in conversation on the daily.
Why? Probably because it's so relatable. Set in 1976, it follows a group of high school teens as they navigate everything from peer pressure to bullying to parental demands. These kids aren't perfect. They drink, smoke, curse, and fight. Many aren't even very smart. And their biggest dramas? Whether they're going to get Aerosmith tickets and sign their coach's pledge to avoid drugs and alcohol. The truth about the plot of Dazed and Confused is that it focuses on the insignificant and mundane. Isn't that what real life is, after all? Especially in high school, your biggest choices really do boil down to who to sit with or what to do for the weekend.
Don't get it twisted: When you're between 14 and 16 years old, those decisions feel monumental. In the grand scheme of things, though, they're so small and unimportant. And that, dear friends, is what makes Dazed and Confused such a beloved movie by so many. Plus, ya know, it launched a lot of big careers and introduced us to Matthew McConaughey. What more do you need, man?
RELATED: Feelin' Nostalgic Yet? Brush Up On Ouija Board Rules for More Throwback Fun
Best Dazed and Confused Quotes
"We're not in junior high anymore. We're freshmen. We're in the big time now… where the girls will be puttin' out all the time." — Carl
"I'd like to quit thinking of the present, like right now, as some minor, insignificant preamble to somethin' else." — Cynthia
"Walkin' down the hall, by myself, smokin' a jay with fifty elves." — Kevin Pickford
"Imagine how many people out there are fuckin' right now, man, just goin' at it." — Slater
"Wait a minute. Who put the keg all the way out here in the woods?" — Randy "Pink" Floyd
"Maybe the '80s will be like radical or something. I figure we'll be in our 20s and it can't get worse." — Cynthia
"All I'm saying is that if I ever start referring to these as the best years of my life, remind me to kill myself." — Randy "Pink" Floyd
"Hey, I'll be watching you, Newton. I only came here to do two things, man; Kick some ass and drink some beer. Looks like we're almost outta beer." — Clint
"OK, girlies. It's really hot out here, and I'm really sick of looking at you." — Darla
"Don't let the fact that you won't be able to sit down all summer affect your game." — Carl
Simone: "What a bitch! She called me a slut. I'm gonna kick her ass."
Darla: "You said you wouldn't get mad." Simone: "I'm not mad!"
Shavonne: "You're an asshole."
Don Dawson: "I know I am."
"OK, guys, one more thing: This summer, when you're being inundated with all this American bicentennial Fourth Of July brouhaha, don't forget what you're celebrating, and that's the fact that a bunch of slave-owning, aristocratic, white males didn't want to pay their taxes." — Ms. Stroud
"Step into my head." — Kevin Pickford
"Hey, you guys know what that song is about? It's about the aliens. We're the aliens, man, we're the savages. We're the savages, man." — Kevin Pickford
"Put some ice on it. After that, there's nothing a few beers won't take care of." — Randy "Pink" Floyd
"Didja ever look at a dollar bill, man? There's some spooky shit goin' on there. And it's green too." — Slater
Tony: "So, you're not gonna go to law school? What do you wanna do then?"
Mike: "I wanna dance!"
"I guess, at first, I was relieved to get out of the situation, but now there's this level of humiliation setting in that's gonna be with me for fucking ever! And I'm just not gonna just let this be another situation that contributes to me being a little ineffectual nothing the rest of my life, you know?" — Mike
"I'm just trying to be honest about being a misanthrope." — Mike
Randy "Pink" Floyd: "Have you seen Jodi around?"
Wooderson: "No, she left your ass." Randy "Pink" Floyd: "Well you win some, you lose some."
"I don't know, coach. I've been doin' so well in English I thought I might work on bein' a writer. What do ya think about that?" — Benny
"Oh, a little weed, you know? There may be a beer bust later on." — Slater
Slater: "Are you cool, man?"
Mitch Kramer: "Like how?" Slater: "OK."
"Simone everyone calls you a slut." — Shavonne
"We're lookin' for you pal. Your ass will be purple before the day is over!" — Benny
"Oh, you didn't hear? I got a shotgun pulled on my ass!" — Fred O'Bannion
Dazed and Confused Quotes: Matthew McConaughey (AKA Wooderson)
"Alright, alright, alright."
Wooderson: "Hey man, you got a joint?"
Mitch Kramer: "Uhh, no; not on me, man." Wooderson: "It'd be a lot cooler if you did."
"Man, it's the same bullshit they tried to pull in my day. If it ain't that piece of paper, there's some other choice they're gonna try and make for you. You gotta do what Randall 'Pink' Floyd wants to do, man. Let me tell you this: The older you do get, the more rules they're gonna try to get you to follow. You just gotta keep livin', man, L-I-V-I-N."
"I love those redheads!"
"Let me tell you what Melba Toast is packin' right here, all right? We got 4:11 Positrac outback, 750 double pumper, Edelbrock intake, bored over 30, 11 to 1 pop-up pistons, turbo-jet 390 horsepower. We're talking some fuckin' muscle."
"Yeah, well, listen. You ought to ditch the two geeks you're in the car with now and get in with us. But that's all right, we'll worry about that later. I will see you there. Alright?"
This article was originally published on