Demi Lovato Says She Cried After Intense 'Ellen' Interview About 2018 Overdose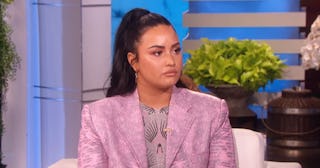 EllenTube/Youtube
Demi Lovato talks openly about her eating disorder and relapse on The Ellen Show
Demi Lovato made her triumphant return to the stage at the Super Bowl, her first performance since taking time off to recover from her relapse and overdose in the summer of 2018, and now, in an interview with Ellen DeGeneres, Lovato opened up for the first time about the events that led her relapse. Lovato talked openly about her eating disorder, her struggles with substance abuse, and why she started drinking again after six years of sobriety. After her interview, Lovato says she walked off stage and broke down in tears.
"Today I got to see my dear friend @theellenshow," Lovato wrote on Instagram. "I was lucky enough to sit with her and share my story from over the past year and a half. I was so emotional I cried when I walked off stage. Thank you Ellen for providing me a platform to speak my truth."
That "truth" included her longterm struggle with an eating disorder, which Lovato calls "my primary problem." She said the eating disorder "turned into other things" and mainly stemmed from the fact that she felt as if her life was "controlled" by the people and management team around her. For example, during the interview, Lovato learned that each of the 10 times she visited The Ellen Show over the last decade, her management team used to remove all sugar from her dressing room, a detail neither Lovato nor DeGeneres was aware of.
"For many years, I didn't even have a birthday cake. I had a watermelon cake, where you cut your watermelon into the shape of a cake and you put fat free whipped cream on top and that was your cake. I just really wanted birthday cake," Lovato lamented. "I think at some point it becomes dangerous to try to control someone's food when they're in recovery from an eating disorder."
Eventually, Lovato said she became so miserable that she wondered, "Here I am sober and I'm thinking to myself, 'I'm six years sober, but I'm miserable. I'm even more miserable than I was when I was drinking. Why am I sober?'" That led to her drinking again, but when she turned to her management team for help, they quit, which Lovato says triggered her fears of abandonment — stemming from issues with her father, who is also an addict — and she turned to drinking and other substances to cope.
"That night I went to a party and there was other stuff there and it was only three months before I ended up in the hospital with an OD," Lovato admitted.
The singer went on to say that she takes full responsibility for her actions, but that she does have a new management team led by Scooter Braun, who Lovato says gave her a real birthday cake for her 27th this year.
Lovato had no obligation to be this honest in front of the world, though she says that after what she's endured, she felt it was important to show everyone what resilience looks like.
"I think it's important that I sit here on this stage and tell you at home or you in the audience or you right here that if you do go through this, you yourself can get through it," Lovato said to the crowd. "You can get to the other side and it may be bumpy, but you are a 10 out of 10, don't forget it. And as long as you take the responsibility you can move past it and learn to love yourself the way you deserve to be loved."
To cap her triumphant and transparent interview and to celebrate her return to music, Lovato's new self-love anthem "I Love Me" drops tonight.