Demi Lovato Opens Up About People's Reactions To Using Their Pronouns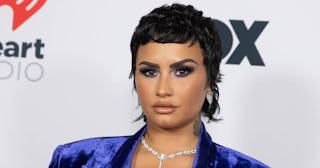 Emma McIntyre/Getty Images for iHeartMedia
In a Pride Month interview, Demi Lovato hinted that their coming out experience has been mixed — but thanked friends, family, and supporters for embracing their pronouns
This year has been quite the roller coaster for Demi Lovato. Since the release of their YouTube documentary, Dancing With the Devil, they've been navigating renewed interest in their sobriety and personal life — for better or for worse. Amid it all, Demi officially came out, announcing that they don't plan to date cisgender men anymore, and that they now use they/them pronouns. Now, in a new interview for YouTube Pride, the singer went into a little more detail about what that experience has been like so far.
Lovato gave a jaw-dropping performance for YouTube Pride, which included all their greatest hits, special guests, fan Q&As, an appearance by Trans Chorus of Los Angeles, and more — all to benefit the Trevor Project. If you have an hour to spare today, this video would be one of the best possible things you could watch.
While we were definitely loving all the performances, one of the best parts of the event was when Lovato just talked about their life, sharing new details with fans about their coming out journey this year. Unfortunately, it seems like it hasn't necessarily been a perfectly smooth road for Lovato.
"People have been so…well, most people have been so wonderful, and that's the reality of coming out," they said, kind of sarcastically, indicating that people have probably been a little less than wonderful. Unfortunately, all you really need to do is scroll Lovato's Instagram comments for a few minutes, and you'll see plenty of instances of people being "wonderful," as they say.
However, not everyone sucks.
"But I am grateful for the progress that my family members have made in using my pronouns — team members, friends," Lovato continued. "I love the conversation that it has begun to spark — I think that's really important. So I have officially changed my pronouns to they/them, and I feel better than ever."
That seems to indicate that Lovato changed their pronouns with family, friends, and those closest to the them before sharing them with the general public. Honestly, we love that journey for them. Whatever it takes for someone to come out in a way that makes them feel loved and supported is the only way they should be coming out — even though we're so glad Lovato was eventually able to share their truth with all of us.