Divorced Mom Transforms Wedding Ring For Daughter, Has Internet In Tears
by Cassandra Stone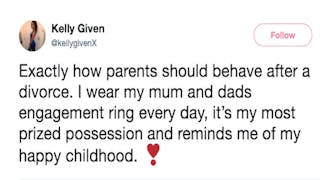 Image via Twitter/Kelly Given
Devin Petit's mom turned her wedding ring into a beautiful gift for her daughter
Being a child of divorce often comes with a fair amount of emotional turmoil. Some parents have mastered the whole civil, co-parenting for a lifetime thing, and others…well, never do. So when Devin Petit shared the birthday gift her mom — who is divorced from her dad — gave her on Twitter, it majorly tapped into many people's feelings.
RELATED: 20 Engagement Gifts That Stand Apart From Bridal, Bachelorette, Or Bachelor Presents
Her mom took the stones from her wedding ring and turned it into a beautiful necklace for her daughter, who obviously loves both of her parents very much. Now she has a part of both of them in a meaningful gift she'll no doubt cherish for a lifetime.
"My mom gave me this necklace this morning as an early birthday gift," she writes. "It's made from the diamonds of her wedding band. She said although her marriage to my dad didn't work out, they both agreed I was the best thing to come from it, which is why she wanted me to have it."
WHEW. Can you guys just hang on a sec? Because my parents' divorce absolutely didn't go down like that and even at 32 years old, this taps into that Child of Divorce faucet I shut off a long time ago.
It seems like many people can relate, as Devin's tweet quickly went viral. The beautiful gesture touched the Twitterverse, that's for sure.
HOO KAYLA, I feel you girl. I don't even remember how it happened, but I have my parents' 10 year anniversary band in my possession. Even if it's not at all wanted by either party, it will sit in my jewelry box for me to wistfully look at occasionally for the rest of my life.
It's so heartwarming to see that other divorced parents have done something similar — a beautiful, bittersweet reminder for their children that shows there was love there.
https://twitter.com/jetpack/status/963595028764479489
On the other side of the coin, this was not exactly the case for others.
LOL. Well hey, it's Chanel. Can't blame a woman for that.
Devin tells Scary Mommy she was able to grow up close with both of her parents despite the divorce. "My parents always maintained an amicable relationship and were really conscious of me and how I felt and always put me first."
This article was originally published on