A 'Beauty And The Beast' Prequel Series Is Coming To Disney Plus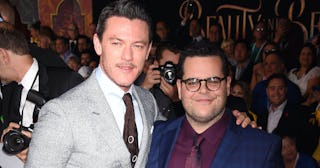 Jeffrey Mayer/WireImage (Photo by Jeffrey Mayer/WireImage) *** Local caption *** Luke Evans; Josh Gad
Ever wondered about the origin story of Gaston and LeFou's friendship? Beauty and the Best prequel series will explain it all
For Disney lovers, there may be no more classic film from the company's golden age than Beauty and the Beast. And while the 2017 live-action remake received some mixed reviews, there were definite standouts — namely, Luke Evans and Josh Gad as Gaston and LeFou, respectively. The pair were perfectly cast, and now, they'll be returning to our screens and those roles in a new prequel series on Disney Plus.
The show, which is called Beauty and the Best, will follow Gaston and LeFou long before Belle and the Beast have their epic romance. According to Deadline, the pair of buddies will set off on an adventure with Gaston's step-sister (played by Briana Middleton), "after a surprising revelation from her past comes to light." The series will be eight episodes — and it's a musical comedy with Disney legend Alan Menken composing the songs. If you have a favorite Disney animated classic, Menken probably composed the music for it. In other words, the score for this series is going to be incredible.
"For anyone who's ever wondered how a brute like Gaston and a goof like LeFou could have ever become friends and partners, or how a mystical enchantress came to cast that fateful spell on the prince-turned-beast, this series will finally provide those answers…and provoke a whole new set of questions," Gary Marsh, president and chief creative officer of Disney Branded TV, said in a press release about Beauty and the Best.
Both Evans and Gad have posted on their social media about the show. Gad, who helped write it, seemed pretty thrilled that the series is going to be made.
"Cannot wait to share this incredible, hilarious, and unexpected journey with you all," he wrote on Instagram. "Get ready for the ride of a lifetime. It's like a Marvel series but without any Marvel characters or a Star Wars series but with any Star Wars characters. The more i think about it, it's like neither of those things."
Evans wrote, alongside his post, "This fills me with such excitement!!!! To be bringing these characters back to life is gonna be such a trip!"
So far, there's no news on when Beauty and the Best will hit the streaming platform. Since it hasn't started production yet, it'll probably be a while. But this is one series that seems worth the wait.
This article was originally published on