Disney+ Adds New Content Advisory Warning Before Some Older Films
by Kristine Cannon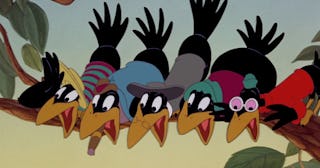 Disney
The new warning appears before classic Disney movies such as Dumbo, Peter Pan, and more
Back in November when Disney+ launched, the streaming service notably paired its classic films, like Dumbo, The Aristocats, The Jungle Book, and Lady and the Tramp, with disclaimers in the movie's plot descriptions that addressed the outdated cultural depictions (read: racism) featured in their films spanning as far back as the 1940s. Well now, nearly one year later, Disney+ has updated — and strengthened — its messaging with a new, lengthier content advisory warning.
RELATED: 80 Disney Trivia Questions For Your Long Drive To Orlando
Before the aforementioned films, a content advisory warning now appears, stating in part, "This program includes negative depictions and/or mistreatment of people or cultures."
"These stereotypes were wrong then and are wrong now," the advisory continues. "Rather than remove this content, we want to acknowledge its harmful impact, learn from it and spark conversation to create a more inclusive future together. Disney is committed to creating stories with inspirational and aspirational themes that reflect the rich diversity of the human experience around the globe. To learn more about how stories have impacted society, please visit www.disney.com/StoriesMatter."
For comparison, the disclaimer previously read: "This program is presented as originally created. It may contain outdated cultural depictions."
Walt Disney Company adds on their website that they're in the process of reviewing their library and adding advisories to content that includes negative depictions or mistreatment of people or cultures.
"We also want to acknowledge that some communities have been erased or forgotten altogether, and we're committed to giving voice to their stories as well," Disney states, adding that, "we can't change the past, but we can acknowledge it, learn from it and move forward together to create a tomorrow that today can only dream of."
Films that carry the warning include Aristocats (1970), which feature a cat "depicted as a racist caricature of East Asian peoples with exaggerated stereotypical traits such as slanted eyes and buck teeth";
Peter Pan (1953), which portrays Native people in a stereotypical manner "that reflects neither the diversity of Native peoples nor their authentic cultural traditions";
Swiss Family Robinson (1960), which features pirates that present a "singular and racist representation of Asian and Middle Eastern peoples";
and Dumbo (1941), which pays homage to racist minstrel shows, offensive lyrics, and much more.
Lady the Tramp (1955) also kicks off with the warning, thanks to the film's anti-Asian stereotypes. Same goes for the Jungle Book (1968), which has been criticized for featuring a character (King Louie) that depicts a racist caricature of African-Americans.
Disney worked with an advisory council consisting of GLAAD, the African American Film Critics Association, Coalition of Asian Pacifics in Entertainment, IllumiNative, National Association of Latino Independent Producers, and RespectAbility, among other organizations on the new warning, which follows criticism of Disney's initial, much briefer messaging.
For example, Michael Baran, a senior partner at the Illinois-based diversity and inclusion consulting firm InQUEST Consulting, told The Washington Post last November that Disney was not direct enough about what the warnings are referring to. He told the publication that he'd like to see Disney "use more explicit language to acknowledge that a film includes biased depictions of a certain racial group and urge viewers to talk about those representations" and that "Disney could include discussion questions online to accompany the movies."
Looks like Disney was listening.
This article was originally published on