We Can't Stop Watching These Real Dogs React To Live Action 'Lady And The Tramp'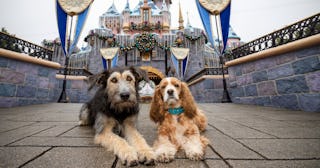 Getty Images
Photos and videos of dogs watching Lady and the Tramp are going viral on social media, and we can't stop watching
Disney has been remaking so many of their animated classics into live-action films over the last couple of years. Most of these cater to humans, well, because generally we are the ones who watch movies. However, Disney's latest live action film, Lady and the Tramp, doesn't only appeal to our species — apparently, it has found quite the niche in the canine community. Since its debut on Disney+ last week, a number of photos and videos have been shared of dogs across the country watching the flick, which stars actual rescue dogs voiced by real celebrities. Get ready for some cuteness overload.
In the videos, shared to YouTube, Instagram, and Twitter, pups of various shapes and sizes can be witnessed, diligently watching the movie as one might expect a human to do.
https://twitter.com/jetpack/status/1196094451577315328
While some pooches watch intently, others run around barking at the screen.
Disney must have seen a viral social media opportunity, as they even suggested that humans take the opportunity to watch the move with their pooches. Obviously, it worked.
In the remake, which stars all rescue dogs, avid dog lover Justin Theroux lends his voice to Monte/Tramp, while other stars include Tessa Thompson as Lady, Sam Elliot, Janelle Monae, and Benedict Wong.
Another sweet detail about the movie is that every rescue dog featured in Lady and the Tramp is no longer homeless. All of them have now found a forever home.
Disney+, Disney's exclusive new streaming platform, went live this week. In addition to Lady and the Tramp, the network is featuring a new Star Wars series, High School Musical: The Series, and some Disney classics like DuckTales and That's So Raven. For a complete list of everything you can watch on Disney+, click here.