Dolly Parton Asks State Of Tennessee Not To Build A Statue In Her Honor
by Erica Gerald Mason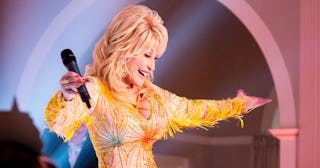 Tina Rowden/Netflix
The 9-to-5 singer proved she's a master class in awesomeness
Dolly, Dolly, Dolly. The legend funds COVID-19 vaccine research. She saves children from danger while also starring in a bonkers made-for-Netflix movie. She oh-so-politely turns down a Presidential Medal of Freedom from the Orange Wombat.
And now, she humbly asks her home state to not spend money commissioning a statue of her on Capitol grounds.
"I want to thank the Tennessee legislature for their consideration of a bill to erect a statue of me on the Capitol grounds," Parton tweeted. "I am honored and humbled by their intention but I have asked the leaders of the state legislature to remove the bill from any and all consideration."
So far, so good, right? A standard, 'thanks but no thanks'.
But we should know, our Dolly never follows the standard. She sets the standard, honey.
"Given all that is going on in the world, I don't think putting me on a pedestal is appropriate at this time," she continues.
Damn, she's good. This is one step beyond what most people would say. But our Dolly isn't good, she's great.
"I hope though, that somewhere down the road several years from now or perhaps after I'm gone if you still feel I deserve it, then I'm certain I will stand proud in our great State Capitol as a grateful Tennessean," her statement read.
And then she hits us with the punch. The sparkle in the sequin, if you will.
"In the meantime, I'll continue to try to do good work to make this great state proud."
Twitter swooned.
"Dolly Parton asking the TN state legislature to remove from consideration a bill that would dedicate a statue to her because she feels it's inappropriate for this moment in our history is exactly why Dolly Parton deserves a statue," one user wrote.
"I know praising Dolly is overdone on here but we stan a room-reading normal person what a relief," another wrote.
"can't trust nobody who don't like Dolly Parton sorry," another tweeted. And isn't that the truth?
Even the biggest boy band in the galaxy, BTS, digs Dolly. Remember when band member and cutie Jungkook cried tears of happiness when Dolly sang at the Grammys?
Another praised how Parton knows the timing is… not great.
The legendary Dictionary.com Twitter account shouted out our Aunt Dolly's class.
"Humility. Noun," the tweet reads. "The quality or condition of being humble; modest opinion or estimate of one's own importance, rank, etc.
Example: Dolly Parton is a dictionary-worthy example of humility."
Dolly has always been the best, as another Twitter user reminds us.
"If you're having a bad day just take a moment to remember, Dolly once entered a "Dolly Look-Alike" competition in an LA club and LOST," the tweet reads."…To a Drag Queen!"
We don't deserve Dolly, but I'm so glad we have her.