10 Dress And Fashion Coloring Pages To Fill In Like They're Going Out Of Style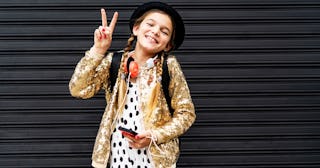 Westend61/Getty Images
`Fashion is many things. It's a form of self-expression and autonomy. It signifies a particular period and place in time and history, and it's also an intricate art form. Maybe your little one is a budding fashionista and has an interest in styling themselves. Or maybe they like to sketch drawings of different outfits. The following dress coloring pages and fashion coloring pages may not stand up to the runways of Paris, but they're great inspiration for your budding Anna Wintour. Plus, they offer an excellent opportunity to introduce your children to different styles. This easy DIY activity may even merit a trip to a fashion museum or a subscription to Vogue to learn more about fashion.
After all, let's be honest, fashion is super fun! As Sex and the City's fashion icon Carrie Bradshaw (played by fashion icon Sarah Jessica Parker) puts it: "Every once in a while, a girl has to indulge herself." And, boy, do we indulge ourselves. On average, women will spend somewhere between $150 and $400 on clothing on a monthly basis, which equates to approximately $1,800 to $4,800 per year. So what do we love wearing the most? Well, in the United States, it's reported that, on average, each person owns seven pairs of blue jeans. While fashion and style can certainly be indulgent, fashion designing and even styling are influential art forms. Think about it: How we dress is how we express ourselves to the world. So, fashion is one of the purest expressions of art because it's something that everyone does every day intuitively.
Once you finish these pages, foster those fashion arbiter vibes by moving over to our collection of coloring pages for teenage girls, girl coloring pages, and aesthetic coloring pages. With that said, we won't hold you up any longer. Here are 10 stylish dress and fashion coloring pages to share with your kids.
Dress & Fashion Coloring Pages
Page No. 1
When we think of Vogue fashion mag, we immediately think of Anna Wintour's cameo in the 2006 cult classic The Devil Wears Prada. Side note: This movie is a film adaption of a book that Wintour's former personal assistant, Lauren Weisberger, wrote. But the history of fashion in magazines dates back much further than that — the first issue of Vogue was published on December 17, 1892, and the first-ever fashion magazine was sold in Germany in 1586.
Page No. 2
Here's another great fashion quote from Sarah Jessica Parker that's worth repeating: "People should dress the way they want. Any rules for age or shape are silly. If you walk out the door feeling good about yourself, that's what counts."
Page No. 3
The skirt is the second oldest item of women's clothing in history, outdated only by the loincloth. And we can all thank our lucky stars that we don't see those still walking around, right?! It's just one of the many ways fashion has evolved over time, just as pregnant bellies were fashionable in the 15th century. Women would stuff their dresses with cushions so they would seem pregnant! (Aren't baby bumps the cutest?)
Page No. 4
We all love jeans (heck, apparently we own seven pairs of 'em), so where did that word come from? Turns out "jeans" are named after the city of Genoa in Italy, a place where cotton corduroy — called either jean or jeane — was manufactured. However, denim jeans, and what we know them to be, were invented by Jacob Davis and Levi Strauss in 1873.
Page No. 5
Women's fashion drastically changed in the 1920s, thanks in part to the social and political changes that occurred in the decade as well as through the influence of designer Coco Chanel and the actress Marlene Dietrich. Women were wearing more androgynous styles, with undefined hemlines and straighter, flowing dresses, and sometimes even pants.
Page No. 6
Socialite Theresa Roemer is said to have the world's biggest closet at 3,000 square feet. The three-story palatial space in Houston, Texas, cost $500,000 to construct.
Page No. 7
A capsule wardrobe is a limited selection of interchangeable clothing pieces, often classic and timeless, that complement each other. You might think you need a big selection of stylish options, but people who enjoy capsule wardrobes swear they don't have to be boring — and they alleviate a lot of the stress that comes with getting dressed. .
Page No. 8
When it comes to fashion, think about how what you wear reflects you. As Gianni Versace once said, "Don't be into trends. Don't make fashion own you, but you decide what you are, what you want to express by the way you dress and the way to live."
Page No. 9
Dreaming of sitting front-row for a major runway show? The major international fashion weeks always take place in the following order: New York, London, Milan, and finally, Paris. So, who's your favorite designer? If it's Ralph Lauren, here's a fun piece of information: Did you know his real name was Ralph Lifshitz?
Page No. 10
Strike a pose! Up until the beginning of the 19th century, models were not used to showcase clothes. Instead, fashion companies would use dolls.
Click here to print all of the dress and fashion coloring pages at once!
This article was originally published on