The Rock's Daddy-Daughter Movie Date Is Adorable AF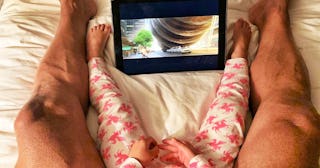 The Rock via Instagram
The Rock got "suckered" into watching his little girl's favorite movie for the 57th time
There are so many hot dads in Hollywood —Matt Damon, Ryan Reynolds, Ryan Gosling and John Legend included — but Dwayne "the Rock" Johnson is basically the ruling leader of DILFdom. It seems like every week the 6' 5", smoking hot muscular god is doing something super adorable with one of his children, setting off a rampant epidemic of hurting ovaries around the world.
This Memorial Day weekend was no different. The doting dad capped off his three-day vacay by showing off his mad parenting skills and god-like thigh muscles simultaneously, with a super sweet Instagram post of a daddy-daughter moment.
Being the kind and honorable human that he is, he first took a moment to honor the men and women of the armed services. "Good way to close out our Memorial Day," he wrote. "The freedoms & safety to enjoy these blessed moments in my life with my babies, that I hold close to my [heart] — I know don't come without a sacrifice and burden to endure. I'm forever grateful and honor all who gave their everything in service for the very blessings that we enjoy." Well said, Dwayne.
"Hope you had a blessed Memorial Day weekend with your families," he continued. "And got suckered into watching THE INCREDIBLES before bedtime for the 57th time."
We could basically publish a coffee table book titled "The Rock's Sweetest (and Hottest) Moments in Parenting," because there are just so many times he has showed off his abs, arms, parenting skills and masculine vulnerability at the same time. And, that is something to write home about.
Back in December, he had us crying ugly tears when he shared a sweet snap of himself (sans shirt) holding his two daughters in his arms. "I ain't gonna be able to hold 'em like this forever, so you better believe I snatch these cookies and love 'em up every moment I can. Plus, I know there's gonna come a day where in daddy's arms is the last place they want to be," he wrote.
Then, there was that photo of his daughter, Jasmine, applying his makeup before work. Because, is there anything sexier than a dad getting his face painted?
That isn't hot enough for you? How about a moment he shared about in October, playing with his toddler in the early hours of the morning (sans shirt again) on just three hours of sleep. "Tired as all hell, but thought ehh there's gonna come a time, years from now when jumping in my arms is the last thing she wants to do and ain't gonna be cool anymore — so I'll always take these moments while I can," he wrote, showing off all sorts of ab and arm muscles we didn't even know were possible.
Whether it's Frozen (in my case), Boss Baby (also me), or The Dog Who Saved Christmas (me again, and hopefully for your sake, only me), most of us have experienced the simultaneous pain and pleasure of cuddling up with our spawn to watch that movie for the 532nd time. As demonstrated by the beyond cute photo of Dwayne's daughter cuddled between his magnificent muscles, there is nothing sweeter in life than those before bed snuggles with your little person — even if it means hearing Idina Menzel belting out "Let it Go" for the umpteenth time.
Dwayne, we just want you to know that we totally see you for everything you are: a movie star, great father, the perfect partner to your girlfriend of ten years, Lauren Hashian, total feminist and a smoking hot dude. Keep posting those parenting pics, because they are everything.
This article was originally published on