The Rock Sends Video Message To 3-Year-Old 'Moana' Fan With Leukemia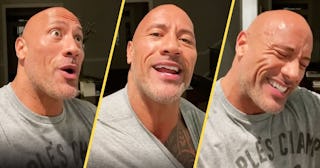 The Rock/Instagram
In a moment that will melt your heart, Dwayne "The Rock" Johnson gives a pep talk to a 3-year-old battling cancer
On Monday, Dwayne "The Rock" Johnson took to social media to send out a truly heartwarming message to a very special friend — albeit one he hasn't exactly met yet. In a nearly three-minute video message, the actor gives a pep talk to a courageous 3-year-old boy by the name of Hyrum Harris who, it's safe to say, is the real "rock" star.
It's well-known that Johnson likes to reach out to fans and lend an encouraging word when he can. However, it's not often you see him experience such an emotional response to a fan story. Having said that, it's not hard to see why he says this one "came across my desk and punched me in the gut."
As Johnson explains in the caption of his video, the story belongs to little Hyrum, who has been diagnosed with "acute lymphoblastic leukemia, which is complicated by Down Syndrome." The 3-year-old "is in the fight of his life right now and doing his best to stay strong — by watching Moana up to 10xs a day because the character he loves, Maui, makes him feel strong."
In the touching video, Johnson speaks directly to Hyrum, playfully joking about his own "rock"-shaped head and how he can't carry a tune quite like Maui ("There's only one Maui, after all!"). Of course, we all know Johnson is the man behind Maui… but for a little boy in a hospital bed right now, Maui remains the larger-than-life demigod he watches onscreen as he repeats his now-mantra: "I strong." (Brb, bawling.)
Gird your heart, because there's more.
Micaela Brown, a friend of Hyrum's family, noticed Johnson's video message. She shared it with Hyrum's mom, April Harris, who has bravely and vulnerably been sharing the family's fight against Hyrum's cancer on social media. According to April, Hyrum's response to the video was "beautiful" and pure. "It was 3:30 a.m. We had only received the video two hours earlier. His port was not working to draw blood and two nurses were attempting to help by repositioning him in an effort to allow it to flow smoothly," April tells Scary Mommy, revealing that they'd turned on the video to give Hyrum something else to focus on.
"Hyrum watched intently. Every time Dwayne mentioned Hyrum's name, Hyrum pointed to his chest and, in his soft sweet voice, repeated saying 'Hyrum' — as though he knew this was special for him. At the reference of a head being compared to the size of a rock, Hyrum giggled. When Dwayne began to sing, Hyrum's eyes got very wide. He looked at me. Smiled so big. Sang 'you're welcome' right along with the video. It was touching," she shared.
For April, the response to Hyrum's story shocked her in some ways (the fact that Johnson shared it, the swiftness of public support) but, in others, she isn't surprised at all. She said, "Hyrum's smile is infectious — healing to those that serve him and love him. We were all touched that night. And we continue to be astonished and amazed at the outpouring of love and support my little fighter is receiving."
April tells us Hyrum is coming off of a "tough weekend of exhaustion and questions as my sweet boy's body is fighting and feeling terrible." But for today, his vitals are stable, he's resting, and — you guessed it — he's watching Moana.
Hyrum, buddy, you may not have stolen the heart of Te Fiti like your hero did, but this much is certain: You have stolen everyone else's. You can follow Hyrum's story and share your support via the #HopeForHyrum hashtag. The family is also currently working on creating a GoFundMe page to help offset Hyrum's medical expenses.
This article was originally published on