11 Earth Day Activities To Do With Your Kids To Celebrate (And Save) Our Planet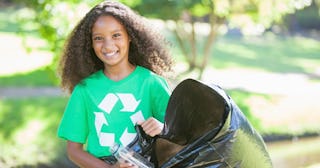 Wavebreakmedia/Getty Images
Earth Day is nearly here! It's a time to celebrate the beautiful planet we're so lucky to live on. We owe a lot to Mother Earth. After all, she is our home, providing us with food, water, and shelter. Not to mention all the beautiful things — mountains, trees, animals — that she shares with us. Unfortunately, now more than ever (due to fossil fuels and overconsumption), she needs our help. Planning Earth Day activities for kids is a great way to inspire your kiddos to get creative and learn about ways to care for our planet.
Whether your kids are in preschool or kindergarten or at home, you can help make Earth Day extra-special by coming up with meaningful and fun things for them to do on the momentous day that will help them feel a part of the global celebration. Need some inspiration on the perfect Earth Day activities? From outdoor exploration to indoor projects, we've got you covered.
Earth Day Activities at Home
Make Earth Day a family event in which everyone can have fun and participate in the following activities.
1. Sort out the trash, recycling, and composting together. Part of keeping our planet clean is knowing how to reuse, recycle, and reduce. Go through the household trash and teach kids which items are suitable to throw, compost, or recycle. Then give them a specific task to do, such as sorting the recycling items.
2. Donate household items. Donating household items, such as gently used clothing, books, and toys, is an excellent way of serving the planet that everyone can do. Hand out bags or boxes to your kids and ask them to go through their things and decide on at least five items from each category — clothing, books, and toys — that they would like to donate.
3. Do a neighborhood cleanup. An easy but powerful activity that helps everyone. Grab some gloves and garbage bags, and chart out a map where you'll pick up trash with your kids.
Earth Day Activities For Preschoolers
Involve your little one with these hands-on creative activities to learn more about Earth.
4. Make DIY Earth Day bird feeders. Teach your kids the importance of giving back with this easy activity. Using a clean toilet paper roll, make a small hole at the top and pull some string through it and tie. Then spread peanut butter to cover the toilet paper roll before rolling it around in some birdseed. Then hang the feeder on a tree for the birds to enjoy!
5. Make an Earth Day collage. Using items from the outdoors — including everything from leaves to twigs to feathers to flowers to even some dirt — have your little one create their own Earth Day collage that depicts what Earth means to them.
Earth Day Activities For Kindergarten
Get kids involved with the outdoors to discover the beauty of their home planet.
6. Go out on a nature scavenger hunt. Make a checklist of everything — bugs, trees, birds, flowers, rocks, dirt — that kids must check off by either observing or collecting.
7. Create a terrarium. Kids can learn how to care for living plants by making their own terrariums and finding items outdoors to fill them. First, fill a glass bowl or cup with pebbles about two to three inches high. Then place potting soil on top, about three-quarters of an inch from the top of the container. Finally, place chosen small plants inside. Kids can also decorate with any chosen twigs or toys, too, and put them on top.
8. Create a carbon footprint. Using a piece of paper or cardboard, have your kid either trace their foot or stamp their foot into paint to create a footprint on the paper. On one side, have them come up with examples of how they contribute to their carbon footprint: driving in a car, flying in an airplane, leaving the lights on, etc. Then have them write on the other side some eco-friendly alternatives like riding a bike, turning off lights, etc.
9. Recycle tin cans. Earth Day is a party for our planet, and what do you need to throw a good shindig? Music! Turn some recycled tin cans into drums. Cut off the end of a balloon and slip it over the top of the tin can. Then, set out some paint so your little one can customize their drum. This activity provides a new toy for your nugget and helps them save a piece of the planet.
10. Paint a picture of the earth. There's nothing sweeter than a homemade image of the planet. Grab some green and blue paint, a few paper plates, and get to work. The circle shape of the plate will help it look even more like a planet.
11. Make energy-saving signs. It's the little things that help keep our planet healthy. Have the kids make colorful signs to remind people in your home to turn off the lights when they're not in the room or the faucet while they're brushing their teeth. It's a great way to keep your kiddo's artwork around the house and a wonderful first step to becoming an eco-friendly home.
This article was originally published on