These Easter Egg Coloring Pages Will Have You On The Hunt For Spring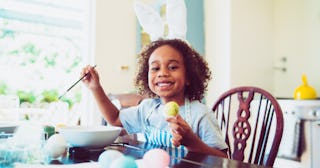 Getty Images
Easter is coming up, and you know what that means — candy, egg dyeing, and more candy. Once the Cadbury Creme Egg commercials start, you know it's time to stock up on Easter grass so your baskets are all ready to go. Based on that aforementioned candy, Easter is also a common time for kids to be hopped up (do you see what we did there?) on sugar. Easter egg coloring pages are a great DIY kids activity to keep them busy while you can get some prep work done around the house. Although let it be said, adults can color too — and should! Coloring can be a great stress relief. All you need is a little bit of time and some colored pencils, markers, or crayons. And for these pretty pages, you'll clearly need a printer, too.
So, if you're on the hunt for Easter egg coloring pages, consider yourself lucky. We compiled some truly egg-cellent options for you.
Free Easter Egg Coloring Pages
1. Easter Egg
Let's get real here. Usually, the eggs we make at home end up turning a shade of brown based on too many dye dips. It happens to the best of us. Rectify the past by giving this spotted Easter egg a bunch of fun colors. Cool fact: The legend of the Easter bunny began in Germany, and it had absolutely nothing to do with the Christian holiday. The rabbit actually represents a pagan goddess of spring and fertility.
2. Easter Eggs
What's more fun than one egg? Two eggs. This striped egg and spotted egg are both #EasterEggGoals. Maybe try to add some silver to the striped egg and pastel coloring to the spotted for incredible contrast. And here's a pro cleaning tip: If you ever drop an egg on the floor pour salt on it for an easier clean-up. It makes it less gooey and thicker.
3. Spotted Easter Eggs
These spotted eggs give a bit more room for imagination. Test out colors to see if they'll go together. A purple egg with green spots may help put you in the holiday spirit. Or, if nothing else, it'll put you in the Mardi Gras spirit. Fun fact: Hens lay more than 300 eggs a year! Thank goodness for chickens.
4. Easter Egg Basket No. 1
As you likely know, Easter baskets are a huge part of the Easter egg hunt. This basket, in particular, would look excellent if you want to try shading it in. And besides being a staple Easter decoration, eggs are really good for you. They're filled with antioxidants that boost eye health, vitamins A, B12, D, riboflavin, folate, phosphorous, and choline, which help with brain function. Did you know the fastest omelet maker is Howard Helmer? He made 427 two egg omelets in half an hour!
5. Easter Egg Basket No. 2
If you feel like using a ton of colors, here's a good opportunity. This beautiful bowed basket has five eggs in it, and it'll be a blast choosing different color schemes for each. If you're not in the Easter spirit just yet, even coloring the eggs a brown or off-white will still make it a masterpiece. Speaking of gems, we know that Easter eggs are a big deal, but in 2007, one golden Fabergé egg stole the show. It sold for $9 million and was NOT the kind of egg you'd want to crack.
6. Zig-Zag Easter Egg
When we think about the ultimate Easter egg, something like this comes to mind. While making designs on actual eggs is more challenging than we'd all like to believe, at least you can color this egg any way you want without risking an accidental color overlap. During medieval times, eggs were thrown in churches. Priests and choir boys would play a game of catch with a hard-boiled egg until noon, and whoever is holding the egg during that time, wins. Did you know that the older the hen, the larger the egg?
7. Pair of Easter Eggs
Want to get really crazy with this drawing? Make each stripe a drastically different color. Both eggs would also look excellent if you happen to have metallic markers to help give them a little bit of shine. Glitter would be a fitting addition to this coloring page too, but since it's glitter — which is an absolute pain to clean up — feel free to ignore that artistic advice. Apart from the glitz and glamour of Easter eggs, in some European countries, people burned fires which were meant to represent fertility.
8. Flower Easter Egg
Let's see some flower power! This egg comes with a ton of color possibilities. You can turn that flower into a daisy, a sunflower, or something completely different. If you need some spring vibes, this coloring page is the perfect place to start. One of the official flowers of Easter used to be lilies.
9. Another Flower Easter Egg
On that note, here's another flower with more intricate lines. This is good for someone who's at an intermediate level of coloring, or someone who needs something to focus on. And obvi you don't want your kids to go searching for raw eggs during the egg hunt. So, to ensure mess-free fun and make sure your eggs are hard-boiled, here's a trick: Test your egg by spinning it. If it's a wobbly twirl, it's raw. If it spins flawlessly, your eggs are ready to go.
10. Floral Easter Eggs
Finally, these two floral Easter eggs are bound to make you smile. They're just begging for some bright, loud colors that'll make them stand out. And if you're lucky, one of these eggs will be made of chocolate. Did you know that more than one million Cadbury Creme Eggs are produced each day? The candy demand is so high during Easter that it competes with Halloween in annual candy sales.
Click here to print all of the Easter Egg coloring pages at once!
This article was originally published on