Admit it: When the first adult coloring books started hitting shelves, you probably scoffed. First, you're chasing babes, barely keeping up with your household chores and possibly working full-time. The idea of sitting down and coloring was downright laughable. Second, if you did have time to embark on a hobby, it would be one of the many things you miss doing from you pre-mommyhood days.
Several years later, however, this trend might seem a little less ludicrous and a bit more, well, relaxing. Someone may have even given you a fun adult coloring book as a gift — during a stressful time or just for fun for when you need to lay back and chill out.
Turns out, that coloring book proved to be fairly relaxing and definitely fun. Now that you're into the full swing of motherhood, you might have a little more time than you previously thought. Coloring might be a better option than scrolling Instagram and Pinterest. Pulling out some adult coloring pages can be something you do at the table while your kid colors their own coloring pages. You can even use it as a way to encourage your wild thing to sit down and practice staying inside the lines.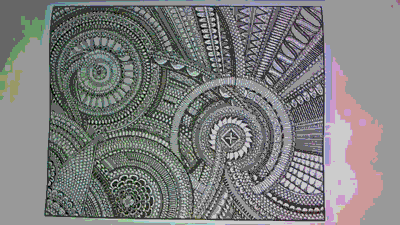 Here's the thing that sucks about adult coloring books, though: They're way more expensive than your kids' books! The solution? Free, printable coloring pages for adults are everywhere online (just like they are for your kiddos). If you have a printer, you have access to tons of coloring pages. Here are some of our favorite places to find mama-friendly coloring pages.
1. The Graphics Fairy
Remember when your mom used to buy cool iron-on transfers and create fun shirts for you? Later, she may have gotten a little more "tech-y" and found them online. Places like The Graphics Fairy still boast a massive collection of art ready to be printed onto transfer paper and put onto a shirt. Great news, though: You can also print them out on regular paper and color them in. The options are endless here.
2. Hattifant
Hattifant is another one of those all-encompassing, DIY-encouraging sites. They have templates and instructions for all kinds of fun projects to do on your own or with your kiddos. Most importantly, though, they have an astounding collection of coloring pages for adults. They even have some for kids, too! (Take note: Not all of their massive collection is available for free.)
3. Trail of Colors
Looking for a mix of super intricate and more simple coloring pages? Trail of Colors is about to become your favorite online resource. They also offer a ton of options for your kids, too, which makes them a one-stop-shop.
4. Just Color
What's your favorite thing to color? From animals and scenery to mandalas and zentangles, Just Color offers a little bit (or, in some cases, a lot bit) of everything to meet your coloring needs.
5. Coloring Pages
Coloringpages.net is amazing. We're linking to the adult coloring pages (that's why you're here, right?), but they have coloring pages for kids, too. From super cool, Native American Art-inspired animal prints to licensed characters (like Storm Troopers!), anything you could possibly want to color can be found here.
6. Quotesgram
Here's the thing about Quotesgram — they're not a coloring page site, but a quotes site. That doesn't change the fact that they have a large collection of simply gorgeous coloring pages, all with words or quotes on them.
7. Everything Etsy
Speaking of "gorgeous," Everything Etsy offers page upon page of beautiful content. Go for the endless supply for adult coloring pages, but poke around for all kinds of other fun things.
8. Faber-Castell
If you're an artist or raising a budding artist, you're probably familiar with the Faber-Castell brand. They make and sell quality art supplies to art and bookstores across the globe. In their quest to keep their customers inspired and creating, they've even launched a site dedicated to adult coloring pages. The best part? They've divided things up by skill level, so you don't get sucked into anything too intricate if you just don't have the time or patience.
9. The Navage Patch
The Navage Patch is the most lovely designed "hack site" out there. They're big fans of the DIY movement and make regular posts to help beauty-seekers create their own art. Part of their work includes offering free printables to their readers. Right now on their freebies page, are calendar ages ready-to-color, some colorable wall art and a link to even more coloring pages.
10. Moms And Crafters
The title says it all, right? Everything on Menucha's page is tailored to moms and/or crafters. She offers a little bit of everything, from colorable gift tags to a whole collection of coloring pages dedicated to, yes, mushrooms. Enjoys!
11. Art Is Fun
Even if you already think art is fun, the coloring pages you find here will only amplify that belief. Nearly everything is available to print and color for free. They also offer a peak at how they colored each page, giving you bold, bright inspo as you set out to create your own color scheme and masterpiece.
12. Live, Laugh, Rowe
LLR's printable art is sweet and simple. It's perfect for those of us who get overwhelmed by the coloring pages with tons of dark, intricate lines. Beauty isn't always complicated and Live, Laugh, Rowe proves it.
13. Tried And True
We. Love. Tried and True. Her coloring pages almost always contain quotes that are sweet or spunky. She even turned our favorite Bronte quote into a coloring page. We may or may not have printed out 10 copies so we can just coloring it over and over, again.
14. In The Playroom
If you're a homeschooler, you'll be excited to hear about In The Playroom. Their mission is actually to be a homeschool resource. Of course, they understand that all mamas need a break. As such, they created a giant collection of adult coloring pages. You can find links to books available to purchase at the top, but plenty of free printables further down.