50 Easy Piano Songs For Kids Including Mozart And Baby Shark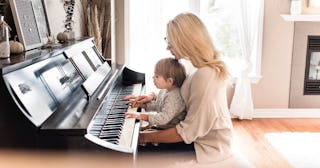 Paige Cody/Unsplash
Teaching kids to read and play music can truly enrich their lives. We recognize that not all families can afford a piano or piano lessons. However, if you're lucky enough to be able to share the joys of learning and playing music, the perseverance and patience they'll learn throughout their training will serve them later in life, as well. But, getting kids to like playing piano may not be easy. Learning theory isn't fun for anyone. And playing songs you don't know or that feel too hard can also be a total downer. By helping your kids find easy songs to play, you're guaranteeing a win. A "win" will only encourage them to continue playing and, eventually, try harder songs. This list of easy piano songs for kids will, hopefully, help keep your kiddos interested.
Super Easy Piano Songs Your Kids Will Love Playing
The key to getting your kids to love an instrument is to make sure they have fun. If piano lessons are tedious, they won't enjoy it and they'll beg to quit. Finding songs they already know and love (and can easily master) will go a long way in helping them enjoy playing piano. These are some of the easiest and most fun kids' songs to play.
1. The Itsy Bitsy Spider
2. Old MacDonald Had A Farm
3. Mary Had A Little Lamb 4. Row Row Row Your Boat 5. Rain, Rain Go Away
6. Twinkle, Twinkle Little Star
7. ABC's 8. Wheels On The Bus 9. I Love You (Barney's Song)
10. If You're Happy And You Know It
11. Jingle Bells 12. Happy Birthday To You 13. Jesus Loves Me 14. Baby Shark
15. Yankee Doodle
16. Kumbaya 17. Baa Baa Black Sheep
Easy Piano Songs For Kids To Play That Adults Will Love
As your kiddos start playing more piano, you're going to get super sick of hearing nursery rhymes and songs you can hear on Sesame Street. Fear not, though. There are actually plenty of more "grown up" songs that are still easy enough for kids to play, even if they're still learning.
18. Swan Lake
19. Brahms Lullaby
20. Fur Elise 21. Ave Maria 22. Amazing Grace
23. Ode To Joy
24. Chopsticks 25. Heart And Soul 26. Sharks, The Jaws Theme
Great Easy Piano Song Books For Kids
Looking for even more ideas? These books all contain a ton of great start songs for your budding pianist. Enjoy!
27. Easy Keyboard And Piano Piano Pieces
This Amazon find is a total game-changer. It's cheap, offers 30 songs total and has an eye-catching cover guaranteed to interest even the most bored of kids.
28. Piano For Kids
Looking to start teaching your kids on your own? The Musicolor formula in this book starts kids off from the very beginning — no teacher necessary.
29. The Usborne First Book Of The Piano
As a mama, you're probably already familiar with Usborne. Next time a friend is having an Usborne party, look for the great music books. They're known for making quality educational material.
30. First 50 Disney Songs You Should Learn On Piano
It might be awhile before your kids are ready to tackle this book. However, as far as Disney songs go, all of the tunes in this book are on the "easy" side of things. Consider this something for them to work for.
Disney Songs To Play on Piano
Speaking of Disney, not all famous Disney songs are for concert pianist fingers only. They may not be for beginners but a next level piano player can certainly learn them.
Here are a few ideas:
31. "Part of Your World" — The Little Mermaid
32. "Let It Go" — Frozen
33. "Beauty and the Beast" – Beauty and the Beast 34. "Circle of Life" – The Lion King 35. "A Whole New World" – Aladdin 36. "I See The Light" – Tangled 37. "Some Day My Prince Will Come" — Snow White 38. "A Dream Is A Wish Your Heart Makes" — Cinderella 39. "Once Upon a Dream" — Sleeping Beauty 40. "Something There" — Beauty and the Beast
Easy Pop Songs to Play on Piano
Once your kids graduate from the basics, you can earn some cool cred by letting them learn a few kid-friendly pop songs. At first glance, you might think these tunes would be too complicated to learn. But many pop songs have pared-down versions that make them a breeze for even little fingers to master.
Here are a few favorites:
41. "Let It Be" — The Beatles
42. "Happy" — Pharrell Williams 43. "Shake It Off" — Taylor Swift 44. "Can't Stop the Feeling!" — Justin Timberlake 45. "Roar" — Katy Perry 46. "Story of My Life" — One Direction 47. "Stronger" — Kelly Clarkson 48. "Superheroes" — The Script 49. "Pompeii" — Bastille 50. "Brave" — Sara Bareilles
This article was originally published on