Exactly 44 Lazy Easy Elf On The Shelf Ideas To Get You Through Another Season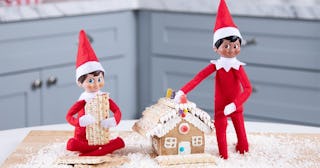 Elf On A Shelf
Sure, the Elf on a Shelf is great for keeping the kids in line during a long day of winter activities. But here comes Christmas season again, and you're stuck moving that stupid doll around your house every night and coming up with excuses why he didn't move on the nights you forgot. The struggle is real, and you are very busy. So, if you're just not a creative type, or simply don't feel like coming up with elf theme sagas, we see you and we're here for you. Luckily for all of us #HotMessExpress parents, some crafty moms really get into the Elf on the Shelf spirit and document their nightly adventures. And no worries, because we've scoured the internet for our favorite Elf on the Shelf ideas and gathered them all up for you right here.
We're here to help you preserve the holiday illusion so that your kids have another charming and magical Christmas. We swear on Santa's sleigh. We even left out the ones that weren't kid-friendly. Though, honestly, if you need a good yuletide laugh, you should search out those dirty elves on Instagram because they're pretty flippin' great. Enjoy! And tell Tinsel we said, "Whaddup, Snitch?!"
Best Last-Minute Elf on the Shelf Ideas
1. Arrive in style
Maybe have your elf arrive in a balloon? They could also appear with the Christmas tree if you can put it up while the kiddo is asleep.
2. Candy Cane Sled
True story: If you hot glue a few candy canes together, they look like an old-fashioned sled. Leave your elf and sled on the banister or coasting into the bathroom sink.
3. The Candy Switcheroo
Who needs silverware when you can have heaps of holiday candy instead? It's sure to be an exciting return for your elf if they come bearing a bounty of sweets.
4. Elf Burrito
Wrap Sprinkles the Elf in a tortilla shell to be found in the breadbox or microwave.
5. Candy Cane Skis
A candy cane on each elf foot looks like a ski. What "slopes" can you make or find in your house?
6. TP Races
Tinsel the Elf fits perfectly in a roll of toilet paper. Why not have his roll and race down the steps or across the table with a Barbie or beanie?
https://www.instagram.com/p/B6NyWkGo9AD/?igshid=18fosl9unqtcq
7. Wrapping Presents
Does your elf leave presents for the kids? Or does your elf have a "family back home"? Set him up with some wrapping scraps and small boxes.
8. Camping
Use a book or tablet for your elf's tent. Consider adding trees or "wildlife" to the scene. Maybe leave some s'mores supplies nearby for an after-school treat.
https://www.instagram.com/p/B6DWXyDH2Lg/?igshid=goc6l8rrbibn
9. Spa Day
https://www.instagram.com/p/B6ZaWrqnC92/?igshid=ikutzl5b0dj7
10. Carousel
Hang your elf, Buddy, from a fan blade and have a couple of lightweight friends join in. Just don't turn it on and make sure you make a seat or another safe way to hang. Let's not give our kids nightmares!
11. Barbie Photo Booth
It's amazing what you can do with a scrap of paper and some little accessories. Set up your elf with some Barbie friends in a makeshift doll photo booth.
12. Dog Walking
Grab some pipe cleaners and every Paw Patrol pup you can find. Use the pipe cleaners as leashes so it looks like Zippy the Elf took them for a walk.
13. Sack Race
Use brown paper lunch bags and a couple of other stuffed animal friends to stage a sack race.
14. Christmas Light Ride
https://www.instagram.com/p/B6RhzEAg72e/?igshid=1hj9bqytp15qe
15. But First, Coffee
Lean your elf against the Keurig and set him up with a "straw" in one of your used k-cups.
16. Breakfast with Barbie
What do elves eat for breakfast? Probably candy. All you need for this is a Barbie and a piece of something sweet staged at the table for when your kids wake up in the morning.
17. Playing Scrabble
Set up your Scrabble board with Christmas words. Leave your elf on one side.
18. Playing Cards/Games
Elves are jovial and easily friends with everyone else in the toy box, right? Set them up at the play table with one of your kids' games, puzzles, or card decks.
19. Elf Jokes
(But, you know: Make it kid-friendly!)
https://www.instagram.com/p/B6b-M15hJcL/?igshid=1a50vnr2tzl09
20. Princess Tea Party
Your elf would definitely be invited to royal tea parties. After all, the princesses want to be on the nice list, too.
21. Fishing for Goldfish
Dump some goldfish crackers into an empty bathroom sink and fix up a makeshift fishing pole for Twinkle Toes the Elf.
22. Repelling
Loop some paracord down the Christmas tree and attach your elf as if she's repelling down the length of it.
23. Riding the Train
Whether it's the train table or a train going around your Christmas tree, your elf should definitely be interested.
24. TP Snowman
https://www.instagram.com/p/B524sVDFSdz/?igshid=j2unz84x30c4
25. Cleaning Out the Couch
Bury his head between two cushions. Leave some typical couch cushion finds scattered around. Think: Change, pencils, and a stray chip.
26. Riding a Dino
Dinosaurs are extinct in the North Pole, too, so your elf would definitely want to lasso one of your kid's dinos for a ride
27. Matchbox Car Wash/Mechanic
Give your elf a piece of sponge and line up your kiddo's toy cars. Or…
28. Borrowing Barbie's Car
Who doesn't want a hot pink Corvette?
29. Testing Cookies for Santa
Set out your elf with some milk and cookies. Take a bite out of one or two. Consider leaving a note from your elf that says something like, "Next time, more sprinkles" or "Oops! You need more for Santa."
30. Grabbing Cocoa
Set out mugs of cocoa for breakfast. Have one for each kiddo, plus a half-empty mug for your elf. He gets up earlier than everyone else, anyway.
https://www.instagram.com/p/B6OGiGHnfuG/?igshid=1l35o0f4g5yiq
31. Storytime
If elves could read, what would they read and who would they read to? You get to decide when you create a storytime vignette for your kid's elf.
32. Brushing His Teeth
Set up Sparkles the Elf in the bathroom with his own toothbrush. Use this as a reminder that Santa expects good little boys and girls to brush their teeth, too.
33. Making Snow Angels
https://www.instagram.com/p/B6D4nofFzik/?igshid=rgxh0t8wgr23
34. Golfing
What you need: Mini marshmallows (golf ball), a candy cane (golf club), and some green construction paper (the putting green).
35. Selfie Obsession
Use your child's phone or tablet to snap some super close "selfies" of your elf. Leave him with the phone in an easy-to-spot place.
36. Sick Day
https://www.instagram.com/p/B6g1k2WhFRS/?igshid=1qnr40dcgyatn
37. Missing the North Pole
Leave your "homesick" elf in the fridge or freezer with a note about how it makes them feel right at home.
38. Watching Elf/Another Christmas Movie
Instigate a movie night (or morning) using your elf. Set them out by the DVD player with your kids' favorite Christmas movie and an invite.
39. Heading Home
Borrow Barbie's boat, plane, or RV for his trip back to the North Pole. Stash the getaway vehicle for a few days then have it return via North Pole Post.
40. Mask Up
It's a new era, right? This year, help continue to normalize wearing face masks for your kiddos by having your elf wear one, too.
41. Pancake Breakfast
Whip up a fun first day back by having your elf on the shelf (or elves, if you have more than one) greet your kids with a very special Rudolph-themed breakfast.
42. Stress-Free Quarantine
OK, so quarantining during the coronavirus pandemic hasn't exactly been stress-free. But that's precisely why this idea is so brilliant! You can kick off your elf on the shelf experience with a two-week quarantine period, meaning you get two weeks of not having to move the jovial little friend around.
43. Wash Your Hands
When your elf finally does arrive from his quarantine, position him by the sink with some suds from the handwash pump spilling onto his arms. On the bathroom mirror in a dry erase marker, write, "Wash Your Hands." This will serve as a cute and playful reminder to everyone in your house to stay clean and hygienic.
44. Or Take a Whole Bath
Hey, while you're at it, just let Farley McSnarkles the Elf get super clean with a soak in your sink! Use mini-marshmallows to make it look like a bubble bath, and position a rubber ducky nearby.
This article was originally published on