Elizabeth Warren Made A Surprise Appearance On 'Saturday Night Live'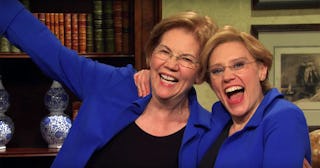 NBC
Former Democratic presidential candidate Elizabeth Warren may have dropped out of the 2020 race, but there's no doubt: Warren continues to live her best damn life. And this week's Saturday Night Live — which had Daniel Craig as host — was proof of it.
SNL kicked its show off with a cold open featuring Emmy Award-winner Kate McKinnon as Fox News host Laura Ingraham addressing none other than the coronavirus outbreak and crisis. "The left continues to wage its deceitful, dishonest, and frankly gay smear campaign against President Trump," McKinnon as Ingraham said as a video of liberals were shown "driving to Whole Foods to buy the last bottle of organic Purell."
After taking a shot at former MSNBC host Chris Matthews, McKinnon's Ingraham then brought on a celebrity guest: Senator Warren, or as McKinnon's Ingraham put it, "the woman who savagely murdered Michael Bloomberg on live television."
"How have you been since dropping out of the race," McKinnon's Ingraham asked Warren, to which she responded, "I'm doing just fine. My friends and family have been so supportive. They've been calling nonstop, asking, 'Are you OK? What do you need? Were you electable?' That kind of thing."
"You certainly ran a memorable campaign. Here's footage of you debating Mike Bloomberg," McKinnon's Ingraham said, then cutting to that viral footage of Warren's dog Bailey eating someone's burrito. "Were you the dog or the burrito?" McKinnon's Ingraham then asked Warren, who after breaking a tiny bit after seeing Bailey, answered, "I was the dog." When asked if she had any regrets, Warren answered, "Not at all."
"I am so proud of our campaign. We built a wide coalition of teachers, preschool teachers, middle school teachers, and teachers' pets. And not only did I not accept money from billionaires, I got to give a swirly on live TV. But now," Warren continued after brief applause and cheering. "I've got time to do a little self-care: hanging out with my dog, Bailey; prank calling big banks; drag racing Subarus; avoiding Twitter. And before I go, I want to thank my supporters and say one last thing…"
And then it happened: McKinnon runs into frame dressed exactly like Warren in a matching blue blazer, black dress, and specs. "Sorry," McKinnon as Warren said after a truly pure embrace, "I just wanted to put on my favorite outfit to thank you for all that you've done in your lifetime." Warren then quipped, "I'm not dead, I'm just in the Senate." (BRB, busy framing this quote.) Then, both of the beaming, they said those seven words together, "Live from New York, it's Saturday Night!"
Honestly, we can't tell if McKinnon or Warren had the time of her life tonight, but it doesn't matter. It's a moment neither they nor we will soon forget.
We even got a little backstage action:
And, at the end of the show, we were all gifted this moment:
Thank you, sweet, sweet cameraman for capturing that embrace.
This article was originally published on