Elliot Page Posted A 'First Swim Trunks' Pic And He Looks So Happy
by Christina Marfice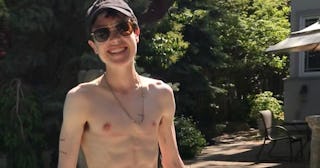 Elliot Page/Instagram
Elliot Page posted a photo that's just proof that living your truth will bring you joy
Since Elliot Page, Oscar-nominated star of Juno and The Umbrella Academy, announced late last year that he is trans, he's been sharing personal milestones with his fans as he continues his journey of self-discovery and living his truth. His latest? A photo of him hanging out at the pool, serving looks — only all fans can see is how radiantly happy he looks.
Page posted the photo to Instagram, which shows him shirtless, showing off an impressive set of abs, next to a pool. He captioned the shot, "Trans bb's first swim trunks #transjoy #transisbeautiful."
And yes, maybe that photo is a little bit of a thirst trap. But to see that, you have to get past the absolute happiness, peace, and joy radiating from Page's face. I mean, have you ever seen him smile like that? I didn't realize it until I saw the photo, but I don't feel like I have.
Even celebrities are taking note.
Although, yes, some were noticing that the actor has clearly been working out, and it's clearly working for him.
Page came out in December, when he posted a letter to fans on his Instagram page.
"Hi friends, I want to share with you that I am trans, my pronouns are he/they and my name is Elliot. I feel lucky to be writing this. To be here. To have arrived at this place in my life," he wrote. "I feel overwhelming gratitude for the incredible people who have supported me along this journey. I can't begin to express how remarkable it feels to finally love who I am enough to pursue my authentic self."
Since then, Page has been letting fans catch glimpses of his life, sharing his first selfie and encouraging his followers to join him in supporting trans rights activism.
Recently, he opened up to Oprah about his transition, including saying surgery was a "life saving experience."
"It's getting out of the shower and the towel's around your waist and you're looking at yourself the mirror and you're just like, 'There I am'. And I'm not having the moment where I'm panicked," he said. "Not only has it been life changing for me, I do believe it's been life saving and it's the case for so many people. And because there is such an attack on trans healthcare right now, when already there's such lack of access."
It's so great to see Page is on a path that's authentic to him, and that he's looking so radiantly happy these days.