Taylor Swift's Mom Is The Cutest Thing About The 'Eras Tour' Concert Film Red Carpet
They are mother-daughter duo goals!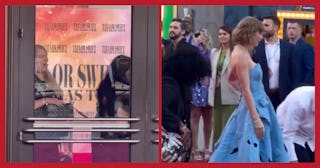 @reagan.baylee / Instagram
Taylor Swift's mom, Andrea Swift, is famous in her own right if you're a Swiftie. The 65-year-old mom has championed her daughter through the highest of highs and lowest of lows throughout Swift's career.
In fact, Taylor has referenced the love and devotion of her mom in several of her songs and even wrote an entire song to her that is featured on her sophomore album, Fearless, entitled "The Best Day."
Side note: that song hits different when you become a mom yourself!
One of the most admirable attributes of Andrea Swift is her ability to be such a force while simultaneously being so chill, kind, and mellow.
When Andrea Swift walks by fans during one of Taylor's shows, fans go absolutely wild. They beg her to trade friendship bracelets and snap a selfie with the matriarch. She typically obliges.
In a now-viral video, taken by @reagan.baylee, fans can see a quick but adorable moment of Andrea during last night's L.A. premiere of The Eras Tour Film Concert.
Reagan filmed Taylor being primmed and carefully tended to while being photographed on her big night. Then the camera pans to Andrea, Swift's mom, inside the theater, watching her daughter from afar through the glass doors.
She smiles and quietly celebrates yet another huge success for her pop icon daughter with a friend, looking on fondly at her amazingly accomplished eldest child.
"Her momma is watching her so proudly," Reagan wrote in text overly on the video.
OK — sobbing!
Does anyone else have that quote from the Barbie movie going through their head?
"We mothers stand still so our daughters can look back to see how far they've come," Barbie creator, Ruth Handler says in the film.
Andrea Swift, like so many of us moms, stop where we are and halt our life for a moment, so that we can allow our girls to thrive and shine. Motherhood, am I right?
The OP of the video actually can back up all the rumors about Andrea Swift being the most amazing mom. She met her that very night!
"Andrea was thoughtful and took her time with each fan. In that moment I felt that she truly took the time to get to know me. I handed her a letter I wrote for Taylor, she held it to her chest and told me 'I'll cherish this forever.' It was a moment I will never forget," Reagan, who hosts the podcast, Swiftie School, told Scary Mommy.
When Swift performed "The Best Day" as one of her surprise songs on The Eras Tour, she shared a small anecdote about the moment she surprised her mom with the song.
After playing it for the first time for her mom, she asked, "Did you like the song?"
Andrea didn't even realize it had been written about and for her.
"It's such a beautiful song. Where did you find it? It sounds exactly like the things we went through," Swift's mom replied, according to the star.
"I was like, 'Mom, I wrote it and recorded it secretly, it is our memories," Swift explained to her, which she said moved Andrea to tears. "It was the sweetest thing ever because I just think she couldn't have comprehended that I would write a song about the two of us."
The song stirred up extra feelings of emotion as since the release of that song, Andrea has been a two-time breast cancer survivor following both a 2015 and 2019 diagnosis.
In January 2020, the "Shake It Off" singer also revealed her mother was battling a brain tumor found amid chemotherapy treatments. Wishing nothing but Andrea the best!