Travis Kelce's Mom Finally Dished About Her First Time Meeting Taylor Swift
She's definitely keeping things low-key.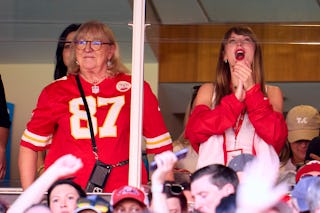 Cooper Neill/Getty Images Sport/Getty Images
It was almost two weeks ago that suddenly millions more people were tuning into NFL football to see if they could get a glimpse of pop icon Taylor Swift.
Swift was at the Kansas City Chiefs vs. Chicago Bears game, reportedly to cheer on the NFL pro Travis Kelce, who may or may not be her new beau.
She was seen in a private box cheering, clapping, and hanging out with Kelce's adorable mom, Donna.
While Swift, 33, was all smiles, looking super cute in Chiefs merch, and sipping on a cranberry vodka, having the time of her life. Kelce, 70, was much more reserved in the box, leading many to wonder what exactly was going through this woman's head.
Some speculated that Kelce was more toned-down because she's been to hundreds (probably thousands) of football games since she became a mom and this is just another day in the life while others thought maybe she wasn't super receptive to her son's new girlfriend.
Today, we're finally getting some sort of clarity on what Donna Kelce really thought about that first meeting with Taylor Swift.
During a recent appearance on the Got It From My Momma podcast, Kelce reflected on getting to know Swift at the games, confirming that she's just as confused and weirded out by all of it as you'd think she is.
"I feel like I'm in an alternate universe, because it's something I've never been involved with before," she told podcast host Jennifer Vickery Smith, going on to say that the past few weeks have been a complete "whirlwind."
Two weeks and some change later, she's shocked people are still wrapped up in this budding romance.
"I thought it would be over at that point, but it seems to just continue, and every week just seems to trump the week before," she confessed, adding that it's been a "wild ride" so far.
Despite her confusion, she thinks it's "pretty cool" to see some young girls taking an interest in football as a result of Swift's recent appearances at games.
The mom of two also told Today show co-hosts Savannah Guthrie and Hoda Kotb this morning that meeting the most popular artist in music was kind of no biggie.
"It was OK," Kelce said downplaying the media frenzy.
The football mom said she could not "tell" if the pair were a "budding romance" because it is "just too new."
She also tried to be low-key when asked about what it was like cheering on her youngest son with the singer.
"I don't like to talk about it. It's just one of those things where everyone saw me," she said. "I was in the boxes with her. It's another thing that's amped up my life."
After their second game together, Kelce posted a video to her Instagram page showing her hugging the "Blank Space" singer during the Chiefs vs. New York Jets game.
"Travis Kelce's biggest fans." the caption read.
Coming from a mom who wants to keep things private for her sons while also still supporting his new girlfriend, this sounds like a rave review for T-Swift!