17 Best Toddler Bed Rails & Bumpers To Keep Your Kiddo Safe (And Contained)
We only recommend products we love and that we think you will, too. We may receive a portion of sales from products purchased from this article, which was written by our Commerce team.
by Katie Bond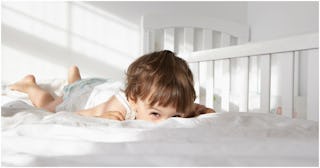 Getty Images/Aleli Dezmen
The best bed rails for kids can lead to a better night's sleep once your baby graduates from the crib to their very own twin bed with bumpers. (Although admittedly, the milestone may make you a little sad … *sniff*). Maybe it's already happened to you: One fateful morning, your toddler busted out of their baby crib and tumbled to the ground feeling bruised yet ecstatic over a newfound sense of freedom. But when your not-so-tiny baby is transitioning to a big kid bed? It can be a little scary for both of you.
With this independence comes plenty of potential owies and hazards, not to mention those annoying eye-poking wakeup calls (Mamas, can we introduce you to the okay-to-wake alarm clock?). Point is, kids can be extremely mobile sleepers. All of that energy from the day for some reason follows them in their dreams and before you know it, they're rolling right out of bed with a thump. One genius solution to help ensure your kid's safety (and your peace of mind) is to install toddler bed rails or safety bed bumpers, which keep your LO snug in bed.
RELATED: The Best, Safest Toddler Pillows For A Restful Night In Their "Big Kid" Bed
When should a child transition from crib to bed?
In short, it depends on the child. While most little ones begin transitioning to a big kid bed somewhere between ages 2 -3 ½, there really are no rules about making the switch. Moving from a crib to a bed is a huge transition for little ones that can result in night wandering, new fears, and new insecurities. To make the transition as smooth as possible, it's best to avoid making the switch during other major transitions. Potty training, starting preschool, moving, or the arrival of a new baby? Then you might want to reconsider. As toddlers grow, they are suddenly faced with numerous transitions. They experience a fair amount of pressure to "grow up". It's best to conquer one major milestone at a time. That way, you'll avoid bombarding toddlers with several transitions at once.
Then, of course, there's the issue of safety. "Timing the transition from the crib to a bed is important, as some little climbers really do find their way out and it is a sincere risk for injuries," explains Wendy Sue Swanson, MD, MBE, FAAP, pediatrician, and Chief Medical Officer at SpoonfulONE. "American Academy of Pediatrics [AAP] recommends moving Baby from a crib to a bed when they reach 35 inches tall, or when the height of the side rail is less than three-quarters of [their] height (approximately chest level)." She offers a final word of advice on timing: "Don't wait — if it's time, it's time."
Tips for a smooth transition:
Unsurprisingly, one of our biggest tips is to get some toddler bed rails or bed bumpers. Dr. Swanson points out that many convertible cribs come with side rails (or have them separate for purchase) for when you turn it into a toddler bed. However, if your child is sleeping in a twin bed or bigger, you might want to turn to one of the options below. She also adds that you'll want to find a rail that fits snugly on the bed. That way, there are no gaps between the rail and mattress.
RELATED: A Bedwetting Alarm Could Help Prevent Future Accidents — Here Are Ones Parents Love Best
A few other tried-and-true tips from us parents: While it may change a little, be sure to re-establish and stick to a bedtime routine with your LO. Help get your babe excited about their new bed by inviting them to choose new bedding and tucking them in with their favorite stuffed animal or cuddly lovey at night. Get a toddler pillow that's both comfy and safe for young sleepers. Read them some relatable stories – this Big Enough For A Bed board book (on Amazon) starring Elmo is a favorite. And, now's a great time to get an extra night light or two if they don't have 'em already. Above all else, be sure to have lots (and lots) of empathy and patience. This is a big change for your little one.
RELATED: The Best Portable Cribs For Taking Your Little One Anywhere— From Down The Hall To Across The World
Whether you need full-size rails that guarantee there's no accidental getting out, or something smaller that allows freedom for older children, we've rounded up the best toddler bed rails and bed bumpers that will keep your kiddo safe and semi-contained. You'll find convenient fold-down rails, cushy foam options, and even inflatable ones that will make toddler travel a breeze… kind of. And don't worry — they're compatible with twin, full, queen, and even king beds, too.
Best Foam Bed Bumpers
There don't need to be a ton of bells and whistles when it comes to bed bumpers —and this pick from Milliard gets the job done while being light and portable. If you tend to travel a lot, this one may be a good pick, as it'll be easy to install in a hotel. Plenty of parents have been happy using it at home, even as a boundary for co-sleeping. "This product is a dream for co-sleeping mothers!" said one reviewer. "I use it as a barricade between my child and myself and finally have a good night's sleep. My kid is 4 and would kick me or roll into me all night long, constantly disrupting my sleep. Well, since I got this, we BOTH sleep so much better."
There's no "one size fits all" when it comes to bed bumpers — and this bumper from Delta Children is proof. Triangular-shaped and extra long, this is a good way for parents to feel secure while putting their little ones to bed. It's made from non-toxic foam, and incredibly easy to clean — and even easier to install. "They stay firmly in place even with two squirmy toddlers in the bed. Now the boys can safely sleep over at Nana's house," one Amazon customer raved. "No more falling out of bed. Love the washable covers too!
If you're not a fan of dealing with the installation of traditional bed rails then the foam bed bumper from Hiccapop is the perfect alternative. The 4.5″ tall and 7″ wide bumper easily slides under any fitted sheet. They're water-resistant and have a machine washable cover, so any nighttime bedwetting is not the end of the world. "I have a memory foam mattress that has a cloth covering and they stay in place perfectly," stated one Amazon customer. They fit so easily under a fitted sheet. They are lightweight & roll up easily for transport. I would buy these again."
This extra long bed rail for toddlers by UBBCARE is 66 inches long—no joke, it's the tallest foam bumper on the market for added security (not even the most active sleeper will be able to stage an escape.) It's perfect for nearly any sized bed and features a non-skid backing to keep it in place. Each bed rail is designated to fit one side of the bed, so you may only need one if the bed is situated next to a wall. Unlike bulky, unsightly metal guards that clash with bedroom décor, these sleek foam rolls can easily be disguised —once installed, they can be covered with a fitted sheet. Bonus: The machine washable cover will be a godsend in case of spills… err, accidents during potty training.
Best Portable Bed Bumpers
Perfect for a hotel stay, a trip to Grandma's house, and easily packable for flights, these inflatable rails (get 'em in a pack of one or two) make toddler travel a tiny bit easier. They are compatible with any bed size and fit under the sheets with a safety grip strip to keep the rails from sliding. When you order this, you won't just get the bumpers — you'll also get a compact foot pump and carrying case, making travel more of a breeze. "When these first arrived I blew them up to see how long they'd stay inflated," said one Amazon customer. "They stayed fully inflated for a week before I had to deflate and pack them."
Sleepovers at Grandma's house are about to get much easier. So are hotel stays. Nab this two-pack of Hiccapop inflatable bed rails, which inflate in seconds and deflate with a push-button release. They come with a travel bag so you can easily pop it in your truck or carry-on luggage for vacations of all kinds.
Best Single-Sided Bed Rails
Single-sided bed rails are a popular choice with parents, many of who trust Regalo in making sure accidents and falls are a rarity. Crafted from alloy steel, you won't need any tools in order to set this rail up. It also has a machine-washable cover, which is always a plus. Plenty of parents used this on a standard twin bed instead of switching to a toddler bed set-up, meaning it's a great way to save some money.
If you're more comfortable with an extra-long barrier, the MBQMBSS rail is a great pick. They have one option that goes up to 80" in length, keeping your kiddo secure at night. Made of linen fabric material, this rail includes a safe child lock — by pressing down the blue button, your child can easily get in and out of bed. It's also a secure option for elderly relatives to use to prevent incidents. "These are great if you co-sleep with your kids and you want [peace] of mind that [they] won't roll off in the night! My baby also loves playing on my bed a lot so it's nice to be able to set him there and not worry about him falling," said one reviewer.
Meet the modern, compact bed rail that keeps convenience in mind. Its durable aluminum frame is sturdy in all the right places and the push-button folding hinge tucks away to let kids climb in and out of bed easily. It fits all adult-sized mattresses and looks a lot sleeker than other options, plus it comes in two colors: grey and blue. As an added bonus, its easy-wipe covering allows for effortless cleaning. "The fold-down feature is nice and simple to work," one Amazon customer said. "I also appreciated the color choices. Most of the rails just come in white, but when you are trying to get your 2 year old to stay in their bed, you want it to be fun.
Easy to assemble with a reinforced anchor system and stylish linen? Sold. (Just keep in mind that this rail only fits twin-size beds.) The breathable mesh and stabilizer bar ensures that your little one is safe and comfy so you can sleep better at night. It also comes in seven fun colors including pink, purple, gray, and navy. "My daughter is a mover at night and no way that bed rail would have kept her in. This one works great!" raved one mom on Amazon. "She's got about 9 in at the head and 12 in at the feet. Enough to get in and out. She loves it! Really easy to install.
This is the compact version of the ComfyBumpy rail mentioned above. It works with all bed types (slat, boxspring, and wood) and has a hinged fold-down design. The padded, sleek frame and breathable mesh make bedtime comfy and safe. Its understated silhouette won't stick out like a sore thumb, plus it comes in both white and grey colors. "I love that it folds down flat against the bed when not in use. It makes my bedroom look normal instead of like a bedsharing with toddler mess!" one Amazon reviewer noted. "I also love that it doesn't run the whole length of the bed so I can get up without lowering the bedrail. Highly recommend!" Looking for a longer rail? Check out the aforementioned extra-long version.
If you think a bed rail will ruin your kid's bedroom decor, you haven't seen the Baby Joy bed rail. With nearly see-through mesh and a sturdy fold-down design, this bed rail is sure to be a hit with your little one. This model has adjustable angles so that older children will be able to get out of bed without any type of added complication. Assembly doesn't involve any tools, and just takes a couple of minutes.
Made from nylon, wood, alloy, and steel, and weighing just over seven pounds, this bed rail by SURPCOS is the real deal. And even better, it can be installed without screws. Best recommended for kids between the ages of one and five, parents have trusted the brand with making bedtime a little safer. "Quick installation. Works beautifully. I would definitely recommend," said one Amazon customer.
Are you looking for an accessory that can keep kids safe in bed without looking too much like a crib? This TotCraft rail comes in white, grey, and beige, and might blend in quite well. It's extra-long and universally made, meaning that it can fit any bed size. Installation is easy, and the peace of mind you'll get will make you wonder why you didn't buy these sooner. Amazon customers are also thrilled with them, with one noting that "the fabric is mesh so if pushed up against it he can still breathe. Also, I love that it folds down."
Best Double-Sided Bed Rails
Looking for a double bed rail? Say hello to this convenient, easy-to-install pick. The Summer Double Safety Bedrail fits twin to queen-sized mattresses and platform beds. One side folds down for an easy bedtime routine, with the majority of Amazon reviewers giving it five stars.
Another great version of double-sided bed rails is this pick from Costzon. They come in four different colors: gray, beige, blue, and pink. It's a clean design that can easily elevate the decor in Baby's room. Each rail is 59″ long and 22″ tall and can work with any crib, twin, double, or full-size bed. Sturdy, safe, and easy to install — what else could you ask for?