Come On, Barbie, Let's Go Party!
Will There Be A Barbie Sequel? Here's What We Know So Far
It's Barbie's world now... we're all just living in it.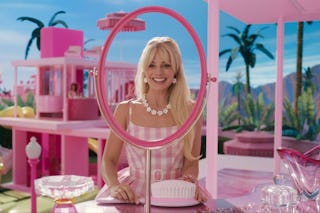 Warner Bros. Pictures
Playing with Barbie is pretty much a rite of passage for any child. Whether you own one (or a billion) or even none at all, there's absolutely no one in this world who isn't at least familiar with this legendary doll. To put it simply: Barbie is iconic — and as of July 21, her story has been brought to life in a new way thanks to Greta Gerwig's new blockbuster Barbie movie. And when dealing with such a big franchise as this, one can't help but wonder if a Barbie sequel movie could already be on the horizon.
The anticipation of this film has proven almost palpable. Everyone has been waiting with bated breath to see how this latest Barbie adventure will unfold. The trailer offers a decent amount of insight into the overall plot as well as an exciting look at Margot Robbie and Ryan Gosling's portrayals of Barbie and Ken. The outfits alone are enough incentive for audiences to flock to the theaters and make this the biggest hit of the summer. So, surely it's not too much of a stretch to think that another installment (or several) could already be in the discussion stage.
If animated Barbie can do it...
Now, to be clear, neither Warner Brothers nor Mattel has made any official announcement about any additional Barbie movies in the future. Still, it's hard to believe that this grand undertaking will end up being a one-and-done experience, right? When it comes to all things Barbie-related, when has there ever been just one thing of anything? Dream houses, cars, limos, outfits — you name it, Barbie has it all, and then some! The same could be said for the live-action movies, especially if the first one does well at the box office.
As of now, over 40 computer-animated movies starring Barbie exist. That is a lot of content by any franchise's standards, which indicates a high demand for anything involving this particular character. If animated creations are having a Barbiemania field day, why can't the same be said for its live-action counterpart? Oh, and if you have any interest in watching all 43 movies in order before the film, have at it — and Godspeed!
If the script is good, the cast will probably return.
During an interview with Jimmy Fallon on The Tonight Show, Gosling called the film the "best script I've ever read." Will Ferrell, who plays the CEO of Mattel, echoed that sentiment while speaking to The Wall Street Journal, stating, "Boy, when I read it, I was like, 'This is fantastic.'" So, logically, you would assume that if they were shown another really great script for a sequel, they would be more than willing to jump on board.
You can't let all that pink paint go to waste!
While speaking to Architectural Digest, Barbie production designer Sarah Greenwood revealed that they used so much pink paint in the film that it resulted in a global shortage. "The world ran out of paint," Greenwood stated. But Gerwig believed it was for a good cause since the color (and lots of it) was crucial to making the movie feel as Barbie-esque as possible. "Maintaining the 'kid-ness' was paramount," she said in the same interview. "I wanted the pinks to be very bright and everything to be almost too much." It would be a downright shame for all of that pink paint to go to waste after just one film, wouldn't you say?
The bottom line is that viewers shouldn't completely rule out a sequel. Until the makers of the movie release a statement about the franchise's future one way or another, there's always hope. But considering how fantastic life in plastic seems to be, there's only one answer that makes sense. And sure, I guess Ken can come too.